Instrument Panel Cluster
The instrument panel cluster is designed to show how the vehicle is running. It shows how fast the vehicle is going, how much fuel has been used, and many other things needed to drive safely and economically.
The vehicle has this cluster or one very similar to it. It includes indicator warning lights and gages that are explained on the following pages. Be sure to read about them.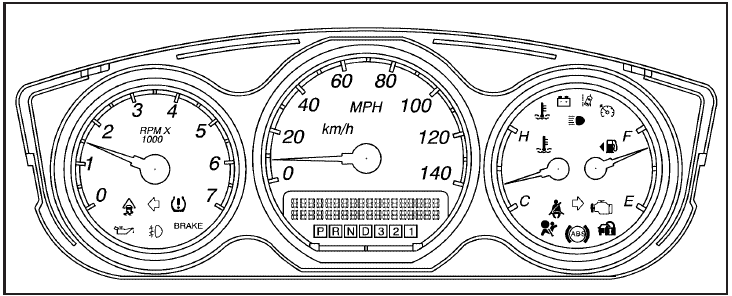 United States Super Model Shown, Canada and Base Similar
See also:
Weight of the Trailer
How heavy can a trailer safely be? It should never weigh more than 454 kg (1,000 lbs). But even that can be too heavy. It depends on how the rig is used. For example, speed, altitude, road grades, ...
Radio Frequency Identification (RFID)
RFID technology is used in some vehicles for functions such as tire pressure monitoring and ignition system security, as well as in connection with conveniences such as key fobs for remote door lo ...
When to Inspect the Engine Air Cleaner/Filter
Inspect the air cleaner/filter at the Maintenance II intervals and replace it at the first oil change after each 50,000 mile (80 000 km) interval. See Scheduled Maintenance for more information. ...