Instrument Panel Cluster
The instrument panel cluster is designed to show how the vehicle is running. It shows how fast the vehicle is going, how much fuel has been used, and many other things needed to drive safely and economically.
The vehicle has this cluster or one very similar to it. It includes indicator warning lights and gages that are explained on the following pages. Be sure to read about them.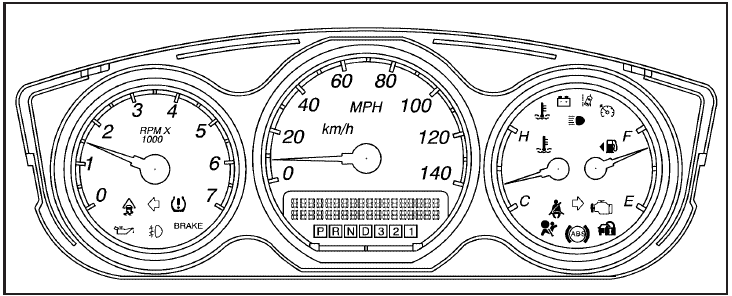 United States Super Model Shown, Canada and Base Similar
See also:
Different Size Tires and Wheels
If you add wheels or tires that are a different size than your original equipment wheels and tires, this may affect the way your vehicle performs, including its braking, ride and handling charac ...
Tire Terminology and Definitions
Air Pressure: The amount of air inside the tire pressing outward on each square inch of the tire. Air pressure is expressed in pounds per square inch (psi) or kilopascal (kPa). Accessory Weight ...
Highway Hypnosis
Always be alert and pay attention to your surroundings while driving. If you become tired or sleepy, find a safe place to park the vehicle and rest. Other driving tips include: ► Keep the veh ...