Passenger Compartment Air Filter
Outside air is routed through a passenger compartment air filter before entering the vehicle. This filter removes certain particles from the air, including pollen and dust particles. The filter should be replaced as part of routine scheduled maintenance. See Scheduled Maintenance for when to replace the filter.
The access panel for the passenger compartment air filter is located under the hood near the windshield, on the passenger's side of the vehicle.
To access the passenger compartment air filter, do the following:
1. Press the tabs back and left to remove the cover.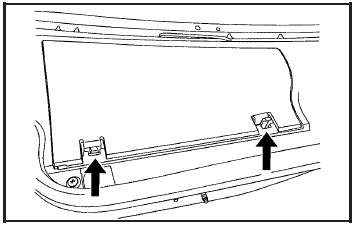 2. Insert a tool behind the push pin located on the inboard side of the air filter compartment to carefully pry the pin out.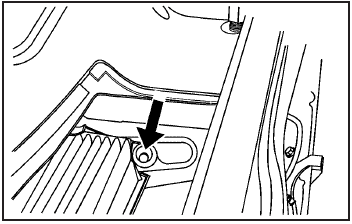 3. To remove the air filter, insert a tool between the air filter and the compartment wall on the outboard side of the vehicle. Then, push in to flatten the pin holding the air filter in place. Gently remove the air filter and any loose debris that may be inside the air filter compartment.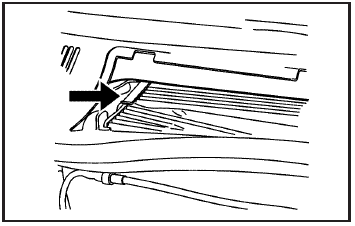 4. Insert the new air filter by pushing until you hear a click. Reinstall the push pin and snap the cover into place.
See also:
Fog Lamps
The fog lamps button is on the exterior lamps control to the left of the steering column. (Fog Lamps): Press the exterior lamps button to turn the fog lamps on or off. A light comes on in th ...
Ultrasonic Parking Assist
If available, Ultrasonic Rear Parking Assist (URPA) system uses sensors on the rear bumper to assist with parking and avoiding objects while in R (Reverse). It operates at speeds less than 8 ...
Fuel E85 (85% Ethanol)
Vehicles that have a FlexFuel badge and a yellow fuel cap can use either unleaded gasoline or ethanol fuel containing up to 85% ethanol (E85). See Fuel E85 (85% Ethanol) . For all other vehicles, use ...