Passenger Compartment Air Filter
Outside air is routed through a passenger compartment air filter before entering the vehicle. This filter removes certain particles from the air, including pollen and dust particles. The filter should be replaced as part of routine scheduled maintenance. See Scheduled Maintenance for when to replace the filter.
The access panel for the passenger compartment air filter is located under the hood near the windshield, on the passenger's side of the vehicle.
To access the passenger compartment air filter, do the following:
1. Press the tabs back and left to remove the cover.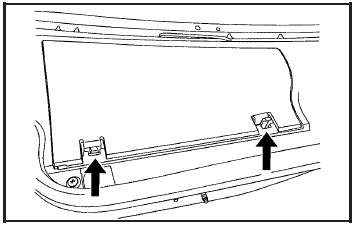 2. Insert a tool behind the push pin located on the inboard side of the air filter compartment to carefully pry the pin out.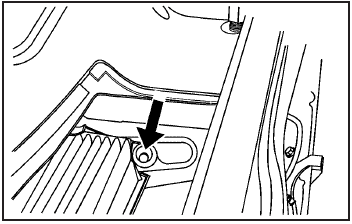 3. To remove the air filter, insert a tool between the air filter and the compartment wall on the outboard side of the vehicle. Then, push in to flatten the pin holding the air filter in place. Gently remove the air filter and any loose debris that may be inside the air filter compartment.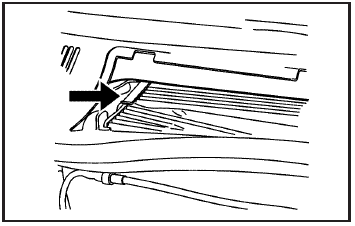 4. Insert the new air filter by pushing until you hear a click. Reinstall the push pin and snap the cover into place.
See also:
Towing
Consult your dealer or a professional towing service if you need to have your disabled vehicle towed. If you want to tow your vehicle behind another vehicle for recreational purposes (such as behi ...
Driving on Wet Roads
Rain and wet roads can reduce vehicle traction and affect your ability to stop and accelerate. Always drive slower in these types of driving conditions and avoid driving through large puddles and dee ...
Gate Ajar Light
If this light comes on, the liftgate or liftglass is not completely shut. Close the liftgate or liftglass. Never drive with the liftgate or liftglass even partially open. ...