Climate Control System
The heating, cooling, and ventilation for the vehicle can be controlled with this system.
For vehicles with the remote start feature, when activated, the climate control system heats or cools the inside of the vehicle with the settings used before the vehicle was turned off. The heated seats, if the vehicle has them, and the rear window defogger will also be turned on when it is cold outside. The cooled seat setting is not activated during a remote start. Normal operation of the system will return after the key is turned to the ON/RUN position. See Remote Keyless Entry (RKE) System Operation for more information.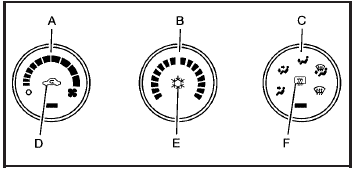 A. Fan Control
B. Temperature Control
C. Air Delivery Mode Control
D. Recirculation
E. Air Conditioning
F. Rear Window Defogger
See also:
When It Is Time for New Tires
Factors such as maintenance, temperatures, driving speeds, vehicle loading, and road conditions affect the wear rate of the tires. Treadwear indicators are one way to tell when it is time for new ...
Interior
Car shoppers might be confused by automakers using the term "premium" to classify brands like Buick and Lincoln, rather than "luxury," but having two classes is smart. The term ...
Radio Frequency Identification (RFID)
RFID technology is used in some vehicles for functions such as tire pressure monitoring and ignition system security, as well as in connection with conveniences such as key fobs for remote door lo ...