Turn and Lane-Change Signals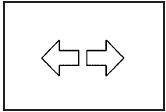 An arrow on the instrument panel cluster flashes in the direction of the turn or lane change.
For vehicles with the side blind zone alert system, an arrow in the outside mirror flashes when the turn signal is used. See Side Blind Zone Alert (SBZA) for more information.
Move the lever all the way up or down to signal a turn.
Raise or lower the lever until the arrow starts to flash to signal a lane change. Hold it there until the lane change is complete. If the lever is briefly pressed and released, the turn signal will flash three times.
The lever returns to its starting position when it is released.
If after signaling a turn or lane change the arrow flashes rapidly or does not come on, a signal bulb may be burned out.
Have the bulbs replaced. If the bulb is not burned out, check the fuse. See Fuses and Circuit Breakers
Turn Signal On Chime
If the turn signal is left on, a warning chime sounds and the Driver Information Center (DIC) will display TURN SIGNAL ON after driving about a mile as a reminder to turn it off. See DIC Warnings and Messages.
See also:
Programming without a Recognized Transmitter (Keyless Access Vehicles Only)
If there are no currently recognized transmitters available, follow this procedure to program up to five transmitters. This feature is not available in Canada. This procedure will take approximate ...
How to Inspect the Engine AirCleaner/Filter
To inspect the air cleaner/filter remove the filter from the vehicle and lightly shake the filter to release loose dust and dirt. If the filter remains caked with dirt, a new filter is required. ...
Hill and Mountain Roads
Driving on steep hills or through mountains is different than driving on flat or rolling terrain. Tips for driving in these conditions include: • Keep the vehicle serviced and in good shape. в ...