Auxiliary Devices
This vehicle may have a 3.5mm (1/8 in) auxiliary input jack and a USB port, located in the center console. Some portable audio devices such as iPodsВ®, MP3 players, and USB storage devices can be connected to the vehicle using a 3.5 mm (1/8 in) cable or a USB cable.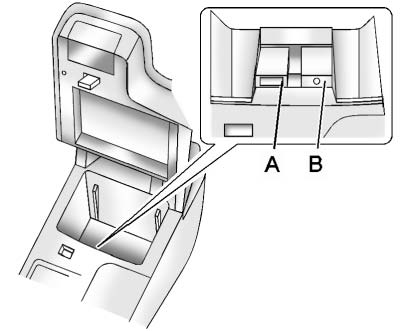 A. USB port
B. 3.5mm (1/8 in) auxiliary input jack
Portable devices are controlled by using the menu system described in Operation .
Using the 3.5mm (1/8 in) Auxiliary Input Jack
Connect a 3.5mm (1/8 in) cable to the 3.5mm (1/8 in) auxiliary input jack to use a portable audio player.
Playback of an audio device that is connected to the 3.5mm (1/8 in) auxiliary input jack can only be controlled using the controls on the device.
Adjusting the Volume
Turn the

knob to adjust the volume of the infotainment system after the volume level has been set on the portable audio device.
See also:
California Fuel Requirements
If the vehicle is certified to meet California Emissions Standards, it is designed to operate on fuels that meet California specifications. See the underhood emission control label. If this fuel i ...
Safety Belts
Refer to the following sections for important information on how to use safety belts properly. ► Safety Belts . ► How to Wear Safety Belts Properly . ► Lap-Shoulder Belt . ` ...
Fuel Gage
When the ignition is on, the fuel gage tells you about how much fuel you have remaining. Here are four things that some owners ask about. None of these show a problem with your fuel gage: ...