Lower Anchor and Top Tether Anchor Locations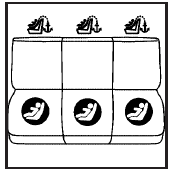 Rear Seat

(Top Tether Anchor):
Seating positions with top tether anchors.

(Lower Anchor): Seating positions with two lower anchors.
To assist you in locating the lower anchors, each seating position with lower anchors has two labels, near the crease between the seatback and the seat cushion.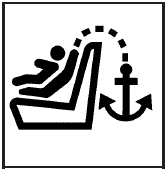 To assist you in locating the top tether anchors, the top tether anchor symbol is located on the cover.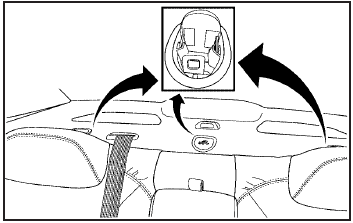 The top tether anchors are located under the covers on the rear seatback filler panel. Flip open the cover to access the anchors. Be sure to use an anchor located on the same side of the vehicle as the seating position where the child restraint will be placed.
Do not secure a child restraint in a position without a top tether anchor if a national or local law requires that the top tether be attached, or if the instructions that come with the child restraint say that the top tether must be attached.
Accident statistics show that children are safer if they are restrained in the rear rather than the front seat. See Where to Put the Restraint for additional information.
See also:
2008 Buick Enclave Review
Buick's new three-row luxury crossover, the Enclave, has a big hole to fill in the brand's lineup. It replaces not one, but three models: the Rendezvous and Rainier SUVs and the Terraza minivan. A ...
Outlet Adjustment
Use the levers, located in the middle of the front outlets, to change the direction of the airflow. Use the thumbwheel located between the outlets to turn them on and off. If the vehicle has re ...
Airbag Readiness Light
This light shows if there is an electrical problem. The system check includes the airbag sensor(s), passenger sensing system, the pretensioners, the airbag modules, the wiring, and the crash sensi ...