Cruise Control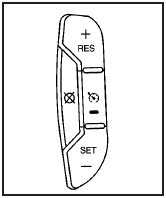 The cruise control buttons are located on the left side of the steering wheel.

: On/Off.
+ RES: Press to accelerate or resume speed.
SET–: Press to set or decrease the speed.

(Cancel): Press to cancel cruise control.
For more information, see Cruise Control.
See also:
Securing a Child Restraint in the Center Rear Seat Position
Many child restraints are too wide to be correctly secured in the center rear seat, although some of them will fit there. If the center seat position is too narrow for your child restraint, secure ...
Winter Tires
Consider installing winter tires on the vehicle if frequent driving on snow or ice covered roads is expected. All season tires provide good overall performance on most surfaces, but they may not offer ...
Traction Control System (TCS)
The vehicle may have a Traction Control System (TCS) that limits wheel slip. The system operates if it senses that one or both of the front wheels are slipping or beginning to lose traction. When this ...