Windows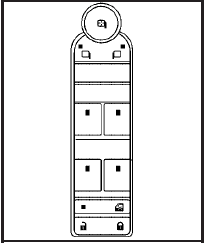 On vehicles with power windows, the switches are on the driver door armrest. Each passenger door has a switch that controls only that window.
Press the switch to lower the window. Pull the switch up to raise it.
For more information, see Power Windows.
See also:
Battery
This vehicle has a standard 12-volt battery. Refer to the replacement number on the original battery label when a new standard 12-volt battery is needed. eAssist vehicles also have a high v ...
Compass Variance
Compass variance is the difference between earth's magnetic north and true geographic north. The mirror is set to zone eight upon leaving the factory. It will be necessary to adjust the compass ...
Washer Fluid
What to Use When windshield washer fluid is needed, be sure to read the manufacturer's instructions before use. If operating the vehicle in an area where the temperature may fall below free ...