Windows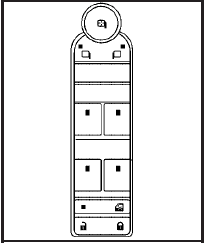 On vehicles with power windows, the switches are on the driver door armrest. Each passenger door has a switch that controls only that window.
Press the switch to lower the window. Pull the switch up to raise it.
For more information, see Power Windows.
See also:
Headlamp Wiring
An electrical overload may cause the lamps to go on and off, or in some cases to remain off. Have the headlamp wiring checked right away if the lamps go on and off or remain off. ...
If a Tire Goes Flat
It is unusual for a tire to blowout while you are driving, especially if you maintain your vehicle's tires properly. If air goes out of a tire, it is much more likely to leak out slowly. But if ...
To Use the Engine Heater
1. Turn off the engine. 2. Open the hood and unwrap the electrical cord. The electrical cord is located on the passenger side of the engine compartment, near the air cleaner. 3. Plug it into a n ...