Changing a Flat Tire
If a tire goes flat, avoid further tire and wheel damage by driving slowly to a level place. Turn on your vehicle's hazard warning flashers.
CAUTION:
Changing a tire can be dangerous. The vehicle can slip off the jack and roll over or fall on you or other people. You and they could be badly injured or even killed.
Find a level place to change your tire. To help prevent the vehicle from moving:
1. Set the parking brake firmly.
2. Put the shift lever in PARK (P).
3. Turn off the engine and do not restart while the vehicle is raised.
4. Do not allow passengers to remain in the vehicle.
To be even more certain the vehicle will not move, you should put blocks at the front and rear of the tire farthest away from the one being changed. That would be the tire, on the other side, at the opposite end of the vehicle.
When your vehicle has a flat tire, use the following example as a guide to assist you in the placement of wheel blocks.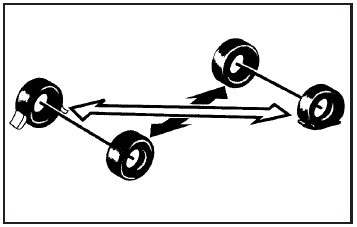 The following information will tell you next how to use the jack and change a tire.
See also:
Rear Seat Pass-Through
Your vehicle has a small door in the rear seat. This door allows you to access the trunk from inside the vehicle. The rear seat armrest must be down for the pass-through door to open. To release ...
2011 Buick LaCrosse Review
Buick's goals with each new car seem the same: Get less stodgy and attract younger buyers. The redesigned LaCrosse's insipid TV ads may not help the cause, but the car they feature should. The LaC ...
Automatic Operation
The system automatically controls the fan speed, air delivery, air conditioning, and recirculation in order to heat or cool the vehicle to the desired temperature. When the AUTO indicator light is ...