Windshield Wiper BladeReplacement
Windshield wiper blades should be inspected for wear or cracking.
Allowing the wiper blade arm to touch the windshield when no wiper blade is installed could damage the windshield. Any damage that occurs would not be covered by your warranty.
Do not allow the wiper blade arm to touch the windshield.
1. To remove the old wiper blades, lift the wiper arm until it locks into a vertical position.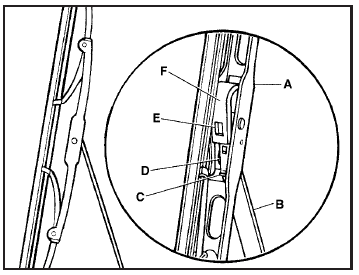 A. Blade Assembly
B. Arm Assembly
C. Locking Tab
D. Blade Pivot
E. Hook Slot
F. Arm Hook
3. Remove the insert from the blade assembly.
The insert has two notches at one end that are locked by the bottom claws of the blade assembly. At the notched end, pull the insert from the blade assembly.
4. To install the new wiper insert, slide the insert (D), notched end last, into the end with two blade claws (A). Slide the insert all the way through the blade claws at the opposite end (B). The plastic caps (C) will be forced off as the insert is fully inserted.
5. Be sure that the notches are locked by the bottom claws. Make sure that all other claws are properly locked on both sides of the insert slots.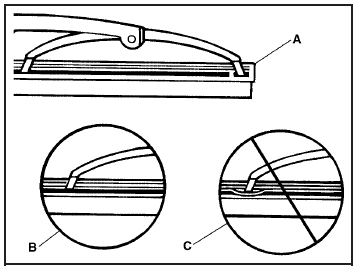 A. Claw in Notch
B. Correct Installation
C. Incorrect Installation
6. Put the blade assembly pivot in the wiper arm hook. Pull up until the pivot locking tab locks in the hook slot.
7. Carefully lower the wiper arm and blade assembly onto the windshield.
See also:
Off-Road Recovery
The vehicle's right wheels can drop off the edge of a road onto the shoulder while driving. Follow these tips: 1. Ease off the accelerator and then, if there is nothing in the way, steer the ...
CD Messages
CHECK CD: If this message appears on the display and/or the CD ejects, it could be for one of the following reasons: • It is very hot. When the temperature returns to normal, the CD should pla ...
Vehicle Overview
Buick joined the minivan market for 2005 with the Terraza, which features sliding side doors and a low step-in height. For 2006, the Terraza can be equipped with a new 3.9-liter V-6. Two version ...