Rear Axle
When to Check Lubricant
It is not necessary to regularly check rear axle fluid unless you suspect there is a leak or you hear an unusual noise. A fluid loss could indicate a problem. Have it inspected and repaired.
How to Check Lubricant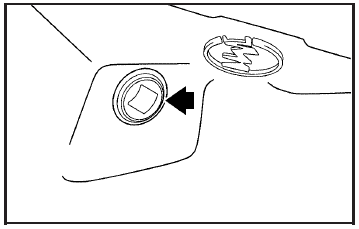 To get an accurate reading, the vehicle should be on a level surface.
The proper level is from 0 to 3/8 inch (0 to 10 mm) below the bottom of the filler plug hole, located on the rear axle.
What to Use
To determine what kind of lubricant to use.
See also:
Head Restraint Adjustment
Do not drive until the head restraints for all occupants are installed and adjusted properly. To achieve a comfortable seating position, change the seatback recline angle as little as necessary w ...
Recommended Fuel
Use regular unleaded gasoline with a posted octane rating of 87 or higher. If the octane rating is less than 87, an audible knocking noise, commonly referred to as spark knock, might be heard when ...
Towing with a Stability Control System
When towing, the sound of the stability control system might be heard. The system is reacting to the vehicle movement caused by the trailer, which mainly occurs during cornering. This is nor ...