All-Wheel Drive
When to Check Lubricant
It is not necessary to regularly check fluid unless you suspect there is a leak or you hear an unusual noise. A fluid loss could indicate a problem. Have it inspected and repaired.
How to Check Lubricant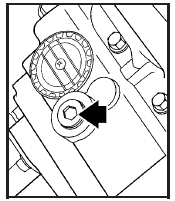 To get an accurate reading, the vehicle should be on a level surface.
If the level is below the bottom of the filler plug hole, located on the transfer case, you'll need to add some lubricant. Add enough lubricant to raise the level to the bottom of the filler plug hole.
Use care not to overtighten the plug.
What to Use
To determine what kind of lubricant to use.
See also:
FM
FM signals only reach about 16 to 65 km (10 to 40 mi). Although the radio has a built-in electronic circuit that automatically works to reduce interference, some static can occur, especially ...
Filling the Tank
WARNING! Fuel vapor burns violently and a fuel fire can cause bad injuries. To help avoid injuries to you and others, read and follow all the instructions on the fuel pump island. Turn off t ...
Treadwear
The treadwear grade is a comparative rating based on the wear rate of the tire when tested under controlled conditions on a specified government test course. For example, a tire graded 150 ...