Checking Brake Fluid
You can check the brake fluid without taking off the cap.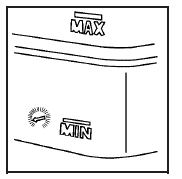 Look at the brake fluid reservoir. The fluid level should be above MIN. If it is not, have your brake system checked to see if there is a leak.
After work is done on the brake hydraulic system, make sure the level is above the MIN, but not over the MAX mark.
See also:
Headlamp High/Low-Beam Changer
To change the headlamps from low to high beam, push the lever toward the instrument panel. To return to low-beam headlamps, pull the multifunction lever toward you. Then release it. When the h ...
When the Change Engine Oil Soon Message Displays
Change engine oil and filter. See Engine Oil. An Emission Control Service. When the Change Engine Oil Soon message displays, service is required for the vehicle as soon as possible, within the ne ...
Recording from Audio CDs
The infotainment system can record the current song playing or all songs from an audio CD to MEM. A status bar appears on the top of the display when the recording process starts and disappe ...