Hood Release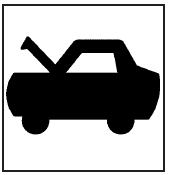 1. To open the hood, first pull the handle with this symbol on it. It is located inside the vehicle under the instrument panel on the driver's side.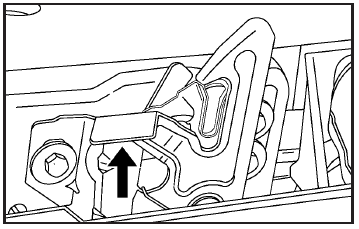 2. Then go to the front of the vehicle and release the secondary hood release.
3. Lift the hood, release the prop rod from its retainer and put the prop rod into the slot in the hood.
Before closing the hood, be sure all the filler caps are on properly. Then lift the hood to relieve pressure on the prop rod. Remove the prop rod from its slot in the hood and return the prop to its retainer. Lower the hood 6 to 8 inches (15 to 20 cm) above the vehicle and release it to latch fully. Check to make sure the hood is closed and repeat the process if necessary.
See also:
Weight of the Trailer
How heavy can a trailer safely be? For a vehicle with a V6 engine, it should never weigh more than 454 kg (1,000 lbs). But even that can be too heavy. It depends on how the rig is used. For e ...
Underbody Maintenance
Chemicals used for ice and snow removal and dust control can collect on the underbody. If these are not removed, corrosion and rust can develop on the underbody parts such as fuel lines, frame, ...
Safety
In Insurance Institute for Highway Safety crash tests, the Lucerne rates Good, the best possible score, in the frontal-offset test and Acceptable in the side impact. Acceptable is, well, acceptabl ...