Off-Road Recovery
You may find that your right wheels have dropped off the edge of a road onto the shoulder while you are driving.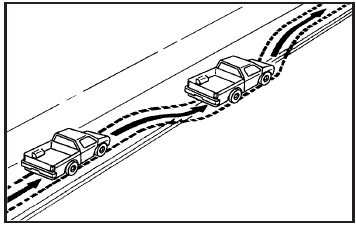 If the level of the shoulder is only slightly below the pavement, recovery should be fairly easy. Ease off the accelerator and then, if there is nothing in the way, steer so that your vehicle straddles the edge of the pavement. You can turn the steering wheel up to one-quarter turn until the right front tire contacts the pavement edge. Then turn your steering wheel to go straight down the roadway.
See also:
Driving Characteristics and Towing Tips
WARNING The driver can lose control when pulling a trailer if the correct equipment is not used or the vehicle is not driven properly. For example, if the trailer is too heavy, the brakes may n ...
Following Distance
Stay at least twice as far behind the vehicle ahead as you would when driving the vehicle without a trailer. This can help to avoid situations that require heavy braking and sudden turns. ...
Voice Pass-Thru
Voice Pass-Thru allows access to the voice recognition commands on the cell phone. See the cell phone manufacturers user guide to see if the cell phone supports this feature. This feature can be ...