Service All-Wheel Drive Light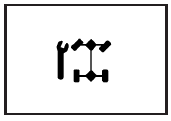 This light should come on briefly when you turn on the ignition, as a check to show you it is working.
The service all-wheel drive light comes on to indicate that there may be a problem with the drive system and service is required. Malfunctions can be indicated by the system before any problem is apparent, which may prevent serious damage to the vehicle. This system is also designed to assist your GM dealer in correctly diagnosing a malfunction.
See also:
Theft-Deterrent Systems
Vehicle theft is big business, especially in some cities. This vehicle has theft-deterrent features, however, they do not make it impossible to steal. ...
Door Ajar Light
This light comes on in the Driver Information Center (DIC) when a door is open or not securely latched. Before driving, check that all doors are properly closed. ...
Rolling Ding Factory
I noticed another anomaly that didn't stand out in previous tests: a flawed interior handle design. Doors usually have an unlatch handle and a separate grab handle nearby for closing the door. The ...