Anti-Lock Brake SystemWarning Light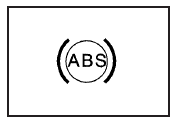 With the Anti-Lock Brake System (ABS), this light will come on when you start your engine and may stay on for several seconds, that is normal.
A chime may also sound when the light comes on.
If the light stays on, or comes on when you are driving, your vehicle needs service. If the regular brake system warning light is not on, you still have brakes, but you do not have anti-lock brakes. If the regular brake system warning light is also on, you do not have anti-lock brakes and there is a problem with your regular brakes.
The ABS warning light should come on briefly when you turn the ignition key to RUN. If the light does not come on then, have it fixed so it will be ready to warn you if there is a problem.
See also:
Empty Directory or Folder
If a root directory or a folder exists somewhere in the file structure that contains only folders/ subfolders and no compressed files directly beneath them, the player advances to the next folder ...
Compressed Audio
The radio also plays discs that contain both uncompressed CD audio (.CDA files) and MP3 files. By default the radio reads only the uncompressed audio and ignore the MP3 files. Pressing the CAT bu ...
Check Gas Cap Light
If your vehicle has this light, it will come on if your gas cap is not securely fastened. ...