Rear Door Security Locks
Your vehicle may have this feature. You can lock the rear doors so they cannot be opened from the inside by passengers. To use one of these locks do the following:
1. Open one of the rear doors. You will find a security lock lever located on the inside edge of each rear door.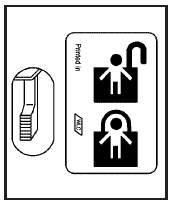 2. Move the lever down to engage the security lock.
Move the lever up to disengage the security lock.
The rear doors of your vehicle cannot be opened from the inside while this feature is in use. If you want to open the rear door while the security lock is on, unlock the door and open the door from the outside.
See also:
Highway Hypnosis
Always be alert and pay attention to your surroundings while driving. If you become tired or sleepy, find a safe place to park the vehicle and rest. Other driving tips include: ► Keep the veh ...
Headlamps on Reminder
A reminder tone sounds when the headlamps or parking lamps are manually turned on, if the driver's door is open and the ignition is in LOCK or ACC. To turn the tone off, turn the knob all the wa ...
Storing a Flat or Spare Tire andTools
CAUTION: Storing a jack, a tire, or other equipment in the passenger compartment of the vehicle could cause injury. In a sudden stop or collision, loose equipment could strike someone. Store al ...