Rear Door Security Locks
Your vehicle may have this feature. You can lock the rear doors so they cannot be opened from the inside by passengers. To use one of these locks do the following:
1. Open one of the rear doors. You will find a security lock lever located on the inside edge of each rear door.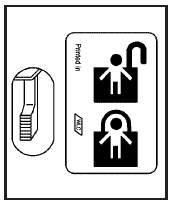 2. Move the lever down to engage the security lock.
Move the lever up to disengage the security lock.
The rear doors of your vehicle cannot be opened from the inside while this feature is in use. If you want to open the rear door while the security lock is on, unlock the door and open the door from the outside.
See also:
Audio Source
VOL/ (Volume/Power): 1. Press to turn the radio on or off. 2. Turn to increase or decrease the volume of the active source (i.e., current audio source, active navigation voice guidance, or ...
Care of the HUD
Clean the inside of the windshield as needed to remove any dirt or film that could reduce the sharpness or clarity of the HUD image. To clean the HUD lens, use a soft, clean cloth that has ho ...
Cruise Control Messages
CRUISE SET TO XXX This message displays when the cruise control is set and shows the speed it was set to. See Cruise Control for more information. ...