Top Tether Anchor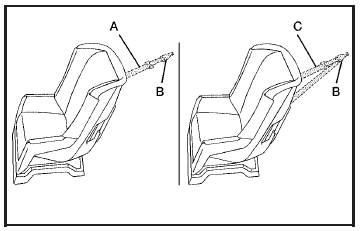 A top tether (A, C) anchors the top of the child restraint to the vehicle. A top tether anchor is built into the vehicle. The top tether attachment (B) on the child restraint connects to the top tether anchor in the vehicle in order to reduce the forward movement and rotation of the child restraint during driving or in a crash.
Your child restraint may have a single tether (A) or a dual tether (C). Either will have a single attachment (B) to secure the top tether to the anchor.
Some child restraints that have a top tether are designed for use with or without the top tether being attached. Others require the top tether always to be attached. In Canada, the law requires that forward-facing child restraints have a top tether, and that the tether be attached. In the United States, some child restraints also have a top tether. Be sure to read and follow the instructions for your child restraint.
If the child restraint does not have a top tether, one can be obtained, in kit form, for many child restraints. Ask the child restraint manufacturer whether or not a kit is available.
See also:
Power Steerin
If power steering assist is lost because the engine stops or the power steering system is not functioning, the vehicle can be steered but it will take more effort. ...
Weatherstrips
Apply silicone grease on weatherstrips to make them last longer, seal better, and not stick or squeak. See Recommended Fluids and Lubricants . ...
Ride Control System Messages
SERVICE TRACTION CONTROL This message displays when there is a problem with the Traction Control System (TCS). When this message is displayed, the system will not limit wheel spin. Adjust your drivin ...