Electric Parking Brake Light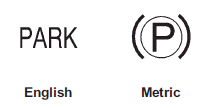 The parking brake status light comes on when the brake is applied. If the light continues flashing after the parking brake is released, or while driving, there is a problem with the Electric Parking Brake system. A SERVICE PARKING BRAKE message may also display on the Driver Information Center (DIC). See Brake System Messages for more information.
If the light does not come on, or remains flashing, see your dealer

The brake warning light should come on briefly when the ignition is placed in ON/RUN. If it does not come on, have the vehicle serviced by your dealer.
If this light comes on, there is a problem with a system on the vehicle that is causing the parking brake system to work at a reduced level. The vehicle can still be driven, but should be taken to a dealer as soon as possible. See Parking Brake for more information.
See also:
Adjustable Throttle and Brake Pedal
If your vehicle has this feature, you can change the position of the throttle and brake pedals. This feature is designed for shorter drivers, since the pedals cannot move farther away from the s ...
Diagnostics
OnStar Vehicle Diagnostics will perform a vehicle check every month. It will check the engine, transmission, antilock brakes, and major vehicle systems. It also checks the tire pressures, if ...
Wiper Blade Replacement
Windshield wiper blades should be inspected for wear or cracking. See Maintenance Schedule for more information. Replacement blades come in different types and are removed in different ways. ...