Electric Parking Brake Light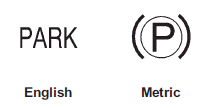 The parking brake status light comes on when the brake is applied. If the light continues flashing after the parking brake is released, or while driving, there is a problem with the Electric Parking Brake system. A SERVICE PARKING BRAKE message may also display on the Driver Information Center (DIC). See Brake System Messages for more information.
If the light does not come on, or remains flashing, see your dealer

The brake warning light should come on briefly when the ignition is placed in ON/RUN. If it does not come on, have the vehicle serviced by your dealer.
If this light comes on, there is a problem with a system on the vehicle that is causing the parking brake system to work at a reduced level. The vehicle can still be driven, but should be taken to a dealer as soon as possible. See Parking Brake for more information.
See also:
Clearing the System
Unless information is deleted out of the in-vehicle Bluetooth system, it will be retained indefinitely. This includes all saved name tags in the phonebook and phone pairing information. For info ...
Endless entertainment options
Terraza is offered with a wide choice of passenger entertainment features, which can be a welcome addition on long trips while giving owners the ability to interface between the vehicle and one's ...
Brake Adjustment
Every time you make a brake stop, your disc brakes adjust for wear. ...