Heated Seats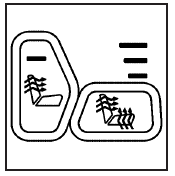 Your vehicle may have heated front seats.
The buttons used to control this feature are located on the front door armrests.
The engine must be running for the heated seat feature to work.
To heat the entire seat, press the horizontal button with the heated seat and seatback symbol.
Press the button to cycle through the temperature settings of high, medium, and low and to turn the heated seat off. The indicator lights above the button will come on to designate the level of heat selected: three for high, two for medium, and one for low. The low setting warms the seatback and seat cushion until the seat temperature is near body temperature. The medium and high settings heat the seatback and seat cushion to a slightly higher temperature. You will be able to feel heat in about two minutes.
To heat only the seatback, press the vertical button with the heated seatback symbol. An indicator light on the button will come on to designate that only the seatback is being heated.
Additional presses will cycle through the heat levels for the seatback only.
The feature will shut off automatically when the ignition is turned off.
See also:
Weight of the Trailer Tongue
The tongue load (A) of any trailer is an important weight to measure because it affects the total or gross weight of your vehicle. The Gross Vehicle Weight (GVW) includes the curb weight of the ve ...
Electric Parking Brake Light
The parking brake status light comes on when the brake is applied. If the light continues flashing after the parking brake is released, or while driving, there is a problem with the Electric Parking ...
Hitches
Use the correct hitch equipment. See your dealer or a hitch dealer for assistance. . The rear bumper on the vehicle is not intended for hitches. Do not attach rental hitches or other bumper-type hi ...