Removing and Replacing the Floor Mats
Pull up on the rear of the floor mat to unlock each retainer and remove.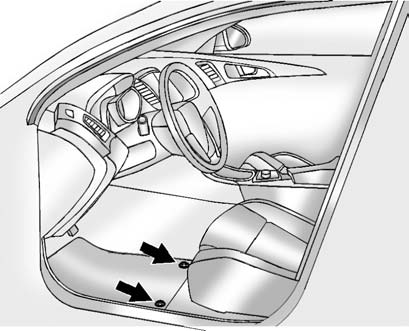 Reinstall by lining up the floor mat retainer openings over the carpet retainers and snap into position.
Make sure the floor mat is properly secured in place.
Verify the floor mat does not interfere with the pedals.
See also:
All-Wheel Drive (AWD) System
Your vehicle may have this feature. There is no lever or switch to engage or disengage the front axle. It is fully automatic and adjusts as needed for road conditions. Your vehicle has an active t ...
Power Windows
The controls for the power windows are located on the armrest on each of the side doors. With power windows, the switches operate the windows when the ignition is in RUN, ACCESSORY or when Retai ...
Ignition Positions (Keyless Access)
The vehicle has an electronic keyless ignition with pushbutton start. Pressing the button cycles it through three modes: ACC/ACCESSORY, ON/RUN/START, and Stopping the Engine/OFF. The transmitter ...