Replacement Bulbs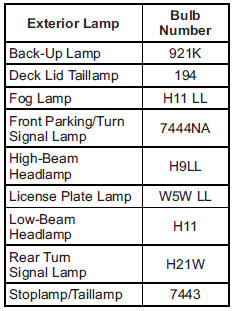 For replacement bulbs not listed here, contact your dealer.
See also:
First Engine Oil Change After Every 240 000 km/150,000 Miles
• Engine cooling system drain, flush, and refill, cooling system and cap pressure check, and cleaning of outside of radiator and air conditioning condenser (or every 5 years, whichever occurs ...
Radio Frequency Identification (RFID)
RFID technology is used in some vehicles for functions such as tire pressure monitoring and ignition system security, as well as in connection with conveniences such as key fobs for remote door lockin ...
Brakes
This vehicle has disc brakes. Disc brake pads have built-in wear indicators that make a high-pitched warning sound when the brake pads are worn and new pads are needed. The sound can come and go o ...