Trunk Deck Inboard Taillamp and Backup Lamp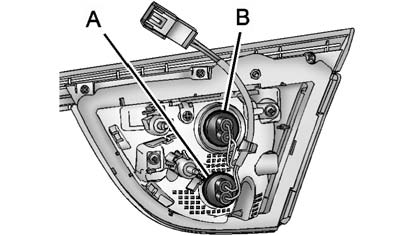 Driver Side Shown, Passenger Side Similar
A. Backup Lamp
B. Taillamp
To replace any one of these bulbs:
1. Open the trunk.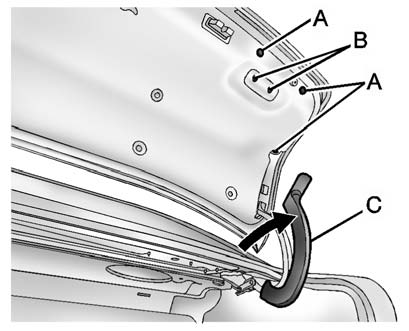 2. Remove the push pins (A) retaining the trunk deck trim cover.
3. Rotate the hinge cover (C) rearward.
4. For the passenger side bulb, remove the pull handle fasteners (B) and pull handle.
5. Pull the trunk deck trim down far enough to gain access to the lamps.
6. Remove the bulb socket by turning counterclockwise.
7. Remove the bulb from the socket by pulling straight out.
8. Install the new bulb in the bulb socket.
9. Reverse Steps 1 through 7 to reinstall.
See also:
Jump Starting (On-board with eAssist Only)
If the vehicle fails to crank, it may be jump started by using the eAssist battery to charge the 12-volt battery. Use the following procedure to activate the on-board jump start using the DIC ...
Servicing Your Airbag-Equipped Vehicle
Airbags affect how your vehicle should be serviced. There are parts of the airbag system in several places around your vehicle. You do not want the system to inflate while someone is working on yo ...
Trailer Towing (eAssist)
The vehicle is neither designed nor intended to tow a trailer. ...