How to Inspect the Engine Air Cleaner/Filter
To inspect the air cleaner/filter, remove the filter from the vehicle and lightly shake the filter to release loose dust and dirt. If the filter remains covered with dirt, a new filter is required.
To inspect or replace the engine air cleaner/filter: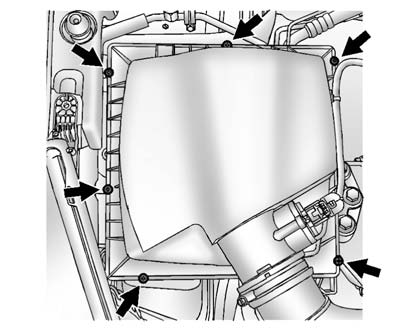 1. Remove the six screws that secure the cover on.
2. Lift off the cover.
3. Inspect or replace the engine air cleaner/filter.
4. Align the filter correctly.
5. Install the cover by lowering it over the filter and secure with the screws.

WARNING
Operating the engine with the air cleaner/filter off can cause you or others to be burned. The air cleaner not only cleans the air; it helps to stop flames if the engine backfires. Use caution when working on the engine and do not drive with the air cleaner/filter off.

Notice: If the air cleaner/filter is off, dirt can easily get into the engine, which could damage it. Always have the air cleaner/filter in place when you are driving.
See also:
Passing
More passing distance is needed when towing a trailer. Because the rig is longer, it is necessary to go farther beyond the passed vehicle before returning to the lane. ...
Drunk Driving
WARNING Drinking and then driving is very dangerous. Your reflexes, perceptions, attentiveness, and judgment can be affected by even a small amount of alcohol. You can have a serious — or even f ...
Checking Brake Fluid
The brake/clutch fluid can be checked without taking off the cap by looking at the brake/clutch fluid reservoir. The fluid level should be above MIN. If it is not, have the brake/ clutch hydraulic ...