How to Inspect the Engine Air Cleaner/Filter
To inspect the air cleaner/filter, remove the filter from the vehicle and lightly shake the filter to release loose dust and dirt. If the filter remains covered with dirt, a new filter is required.
To inspect or replace the engine air cleaner/filter: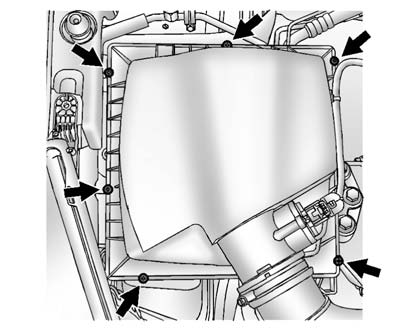 1. Remove the six screws that secure the cover on.
2. Lift off the cover.
3. Inspect or replace the engine air cleaner/filter.
4. Align the filter correctly.
5. Install the cover by lowering it over the filter and secure with the screws.

WARNING
Operating the engine with the air cleaner/filter off can cause you or others to be burned. The air cleaner not only cleans the air; it helps to stop flames if the engine backfires. Use caution when working on the engine and do not drive with the air cleaner/filter off.

Notice: If the air cleaner/filter is off, dirt can easily get into the engine, which could damage it. Always have the air cleaner/filter in place when you are driving.
See also:
When Should an Airbag Inflate?
Frontal airbags are designed to inflate in moderate to severe frontal or near frontal crashes to help reduce the potential for severe injuries, mainly to the driver's or front outboard passeng ...
Why Safety Belts Work
When you ride in or on anything, you go as fast as it goes. Take the simplest vehicle. Suppose it is just a seat on wheels. Put someone on it. Get it up to speed. Then stop the vehicle. T ...
Front Fog Lamp Light
The fog lamp light comes on when the fog lamps are in use. The light goes out when the fog lamps are turned off. See Fog Lamps for more information. ...