How to Inspect the Engine Air Cleaner/Filter
To inspect the air cleaner/filter, remove the filter from the vehicle and lightly shake the filter to release loose dust and dirt. If the filter remains covered with dirt, a new filter is required.
To inspect or replace the engine air cleaner/filter: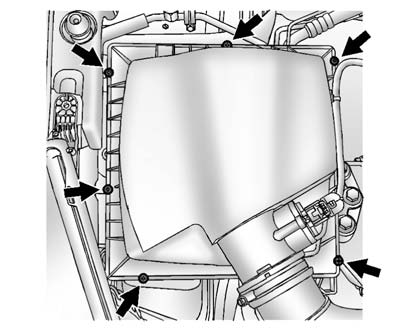 1. Remove the six screws that secure the cover on.
2. Lift off the cover.
3. Inspect or replace the engine air cleaner/filter.
4. Align the filter correctly.
5. Install the cover by lowering it over the filter and secure with the screws.

WARNING
Operating the engine with the air cleaner/filter off can cause you or others to be burned. The air cleaner not only cleans the air; it helps to stop flames if the engine backfires. Use caution when working on the engine and do not drive with the air cleaner/filter off.

Notice: If the air cleaner/filter is off, dirt can easily get into the engine, which could damage it. Always have the air cleaner/filter in place when you are driving.
See also:
Service
Never try to do your own service on eAssist components. You can be injured and the vehicle can be damaged if you try to do your own service work. Service and repair of these high voltage com ...
Treadwear 200 Traction AA Temperature A
The following information relates to the system developed by the United States National Highway Traffic Safety Administration (NHTSA), which grades tires by treadwear, traction, and temper ...
Spare Tire
Your vehicle, when new, had a fully-inflated spare tire. A spare tire may lose air over time, so check its inflation pressure regularly. After installing the spare tire on your vehicle, you should ...