Hood
To open the hood: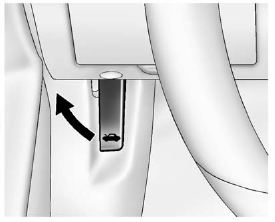 1. Pull up on the hood release handle. It is located inside the vehicle to the left of the steering column.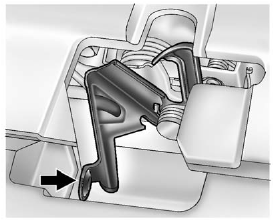 2. Go to the front of the vehicle and with hand palm side down, slide the secondary hood release handle toward the driver side of the vehicle.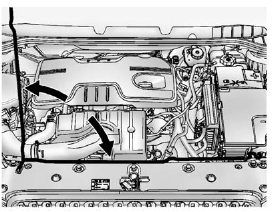 3. Lift the hood and pull the prop rod by the sleeve from the retainer, located above the radiator.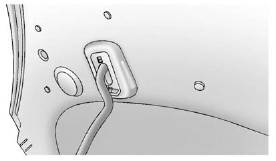 4. Securely place the hood prop into the slot on the underside of the hood.
To close the hood:
1. Before closing the hood, be sure all the filler caps are on properly. Then, lift the hood to relieve pressure on the hood prop. Remove the hood prop from the slot on the underside of the hood and return the prop to its retainer. The prop rod must click into place when returning it to the retainer to prevent hood damage.
2. Lower the hood 20 cm (8 in) above the vehicle and release it so it fully latches. Check to make sure the hood is closed and repeat the process if necessary.
See also:
Tire Terminology and Definitions
Air Pressure: The amount of air inside the tire pressing outward on each square inch of the tire. Air pressure is expressed in kPa (kilopascal) or psi (pounds per square inch). Accessory Weight: The ...
Reporting Safety Defects to General Motors
In addition to notifying NHTSA (or Transport Canada) in a situation like this, please notify General Motors. Call 1-800-521-7300, or write: Buick Customer Assistance Center P.O. Box 33136 Detroi ...
If No Steam Is Coming From YourEngine
If you get an engine overheat warning but see or hear no steam, the problem may not be too serious. Sometimes the engine can get a little too hot when you: • Climb a long hill on a hot day. в ...