Hood
To open the hood: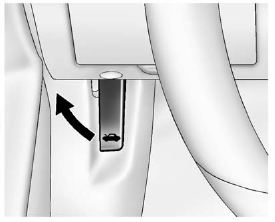 1. Pull up on the hood release handle. It is located inside the vehicle to the left of the steering column.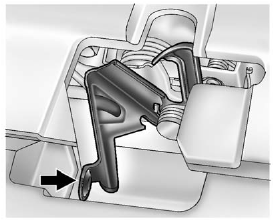 2. Go to the front of the vehicle and with hand palm side down, slide the secondary hood release handle toward the driver side of the vehicle.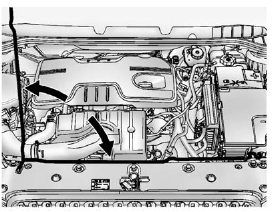 3. Lift the hood and pull the prop rod by the sleeve from the retainer, located above the radiator.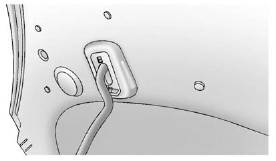 4. Securely place the hood prop into the slot on the underside of the hood.
To close the hood:
1. Before closing the hood, be sure all the filler caps are on properly. Then, lift the hood to relieve pressure on the hood prop. Remove the hood prop from the slot on the underside of the hood and return the prop to its retainer. The prop rod must click into place when returning it to the retainer to prevent hood damage.
2. Lower the hood 20 cm (8 in) above the vehicle and release it so it fully latches. Check to make sure the hood is closed and repeat the process if necessary.
See also:
Wiper Blade Replacement
Windshield wiper blades should be inspected for wear or cracking. See Maintenance Schedule for more information. Replacement blades come in different types and are removed in different ways. ...
Electrical System Overload
The vehicle has fuses and circuit breakers to protect against an electrical system overload. When the current electrical load is too heavy, the circuit breaker opens and closes, protecting the ci ...
Customer Satisfaction Procedure
Your satisfaction and goodwill are important to your dealer and to Buick. Normally, any concerns with the sales transaction or the operation of the vehicle will be resolved by your dealer's sa ...