Hood
To open the hood: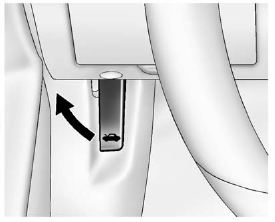 1. Pull up on the hood release handle. It is located inside the vehicle to the left of the steering column.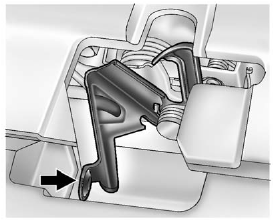 2. Go to the front of the vehicle and with hand palm side down, slide the secondary hood release handle toward the driver side of the vehicle.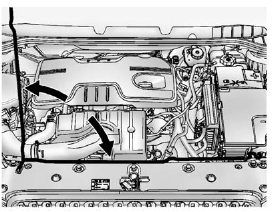 3. Lift the hood and pull the prop rod by the sleeve from the retainer, located above the radiator.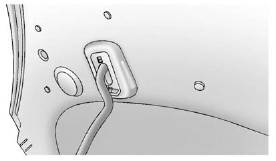 4. Securely place the hood prop into the slot on the underside of the hood.
To close the hood:
1. Before closing the hood, be sure all the filler caps are on properly. Then, lift the hood to relieve pressure on the hood prop. Remove the hood prop from the slot on the underside of the hood and return the prop to its retainer. The prop rod must click into place when returning it to the retainer to prevent hood damage.
2. Lower the hood 20 cm (8 in) above the vehicle and release it so it fully latches. Check to make sure the hood is closed and repeat the process if necessary.
See also:
Securing a Child Restraint Designed for the LATCH System
WARNING! If a LATCH-type child restraint is not attached to anchors, the child restraint will not be able to protect the child correctly. In a crash, the child could be seriously injured or ...
Using Cruise Control on Hills
How well the cruise control will work on hills depends upon the vehicle speed, load and the steepness of the hills. When going up steep hills, you might have to step on the accelerator pedal to ...
Checking Brake Fluid
The brake/clutch fluid can be checked without taking off the cap by looking at the brake/clutch fluid reservoir. The fluid level should be above MIN. If it is not, have the brake/ clutch hydraulic sy ...