Hood
To open the hood: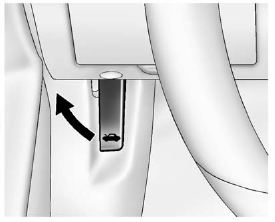 1. Pull up on the hood release handle. It is located inside the vehicle to the left of the steering column.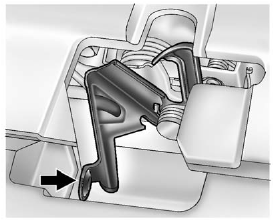 2. Go to the front of the vehicle and with hand palm side down, slide the secondary hood release handle toward the driver side of the vehicle.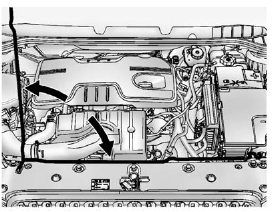 3. Lift the hood and pull the prop rod by the sleeve from the retainer, located above the radiator.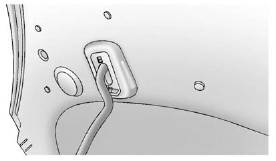 4. Securely place the hood prop into the slot on the underside of the hood.
To close the hood:
1. Before closing the hood, be sure all the filler caps are on properly. Then, lift the hood to relieve pressure on the hood prop. Remove the hood prop from the slot on the underside of the hood and return the prop to its retainer. The prop rod must click into place when returning it to the retainer to prevent hood damage.
2. Lower the hood 20 cm (8 in) above the vehicle and release it so it fully latches. Check to make sure the hood is closed and repeat the process if necessary.
See also:
Fuel System Messages
FUEL LEVEL LOW This message displays and a chime sounds if the fuel level is low. Refuel as soon as possible. See Fuel Gauge and Fuel for more information. TIGHTEN GAS CAP This messa ...
Automatic Operation
The system automatically controls the fan speed, air delivery, air conditioning, and recirculation in order to heat or cool the vehicle to the desired temperature. When the AUTO indicator lig ...
Overview (Radio with CD)
Overview (Radio with CD) A. RADIO/BAND Changes the band while listening to the radio. Selects the radio when listening to a different audio source. B. Buttons 1−6 Radio: Saves an ...