Steering Wheel Controls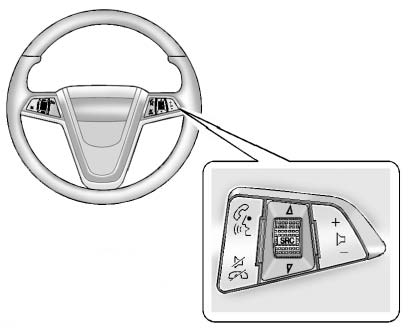 For vehicles with audio steering wheel controls, some audio controls can be adjusted at the steering wheel.

(Push to Talk): For vehicles with a Bluetooth, OnStar, or navigation system, press to interact with those systems. See Bluetooth (Overview) or Bluetooth (Infotainment Controls) or Bluetooth (Voice Recognition) , the OnStar Owner's Guide, or the separate navigation manual for more information.

(Mute/End Call): Press to silence the vehicle speakers only.
Press again to turn the sound on. For vehicles with OnStar or Bluetooth systems, press to reject an incoming call, or end a current call.

(Rotary Control): Turn to select an audio source.
Press

to select the next or previous favorite radio station, CD, or MP3 track.

(Volume): Press + to increase the volume. Press − to decrease the volume.
See also:
Accessories and Modifications
Adding non-dealer accessories or making modifications to the vehicle can affect vehicle performance and safety, including such things as airbags, braking, stability, ride and handling, emissions s ...
Roadside Assistance Program
For U.S.-purchased vehicles, call 1-800-252-1112; (Text Telephone (TTY): 1-888-889-2438). For Canadian-purchased vehicles, call 1-800-268-6800. Service is available 24 hours a day, 365 days a year. ...
Towing the Vehicle
Notice: To avoid damage, the disabled vehicle should be towed with all four wheels off the ground. Care must be taken with vehicles that have low ground clearance and/or special equipment. Always ...