Steering Wheel Controls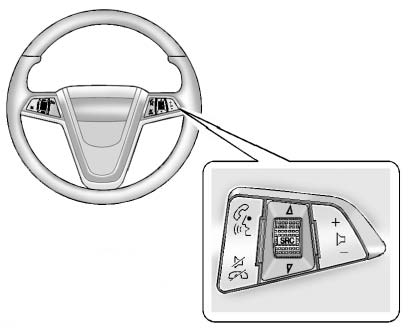 For vehicles with audio steering wheel controls, some audio controls can be adjusted at the steering wheel.

(Push to Talk): For vehicles with a Bluetooth, OnStar, or navigation system, press to interact with those systems. See Bluetooth (Overview) or Bluetooth (Infotainment Controls) or Bluetooth (Voice Recognition) , the OnStar Owner's Guide, or the separate navigation manual for more information.

(Mute/End Call): Press to silence the vehicle speakers only.
Press again to turn the sound on. For vehicles with OnStar or Bluetooth systems, press to reject an incoming call, or end a current call.

(Rotary Control): Turn to select an audio source.
Press

to select the next or previous favorite radio station, CD, or MP3 track.

(Volume): Press + to increase the volume. Press − to decrease the volume.
See also:
Battery Power Protection
The battery saver feature is designed to protect the vehicle's battery. If some interior lamps are left on and the ignition is turned off, the battery rundown protection system automatically tu ...
Engine Cooling System Messages
A/C OFF DUE TO HIGH ENGINE TEMP This message displays when the engine coolant becomes hotter than the normal operating temperature. To avoid added strain on a hot engine, the air conditioning compre ...
Front Fog Lamps
For vehicles with front fog lamps, the button is located on the outboard side of the instrument panel. The ignition must be on to turn on the fog lamps. (Front Fog Lamps): Press to turn the f ...