Steering Wheel Controls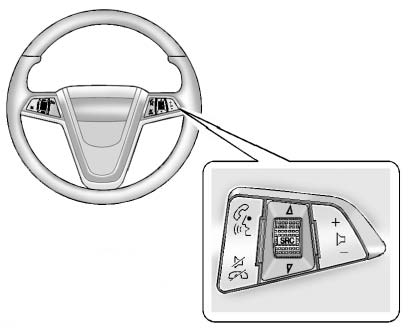 For vehicles with audio steering wheel controls, some audio controls can be adjusted at the steering wheel.

(Push to Talk): For vehicles with a Bluetooth, OnStar, or navigation system, press to interact with those systems. See Bluetooth (Overview) or Bluetooth (Infotainment Controls) or Bluetooth (Voice Recognition) , the OnStar Owner's Guide, or the separate navigation manual for more information.

(Mute/End Call): Press to silence the vehicle speakers only.
Press again to turn the sound on. For vehicles with OnStar or Bluetooth systems, press to reject an incoming call, or end a current call.

(Rotary Control): Turn to select an audio source.
Press

to select the next or previous favorite radio station, CD, or MP3 track.

(Volume): Press + to increase the volume. Press − to decrease the volume.
See also:
Control of a Vehicle
Braking, steering, and accelerating are important factors in helping to control a vehicle while driving. ...
Immobilizer
See Radio Frequency Statement for information regarding Part 15 of the Federal Communications Commission (FCC) rules and Industry Canada Standards RSS-GEN/210/220/310. ...
Unit
Move to switch between metric or US when the Unit display is active. Press SET/CLR to confirm the setting. This will change the displays on the cluster and DIC to either metric or English ( ...