Convenience Net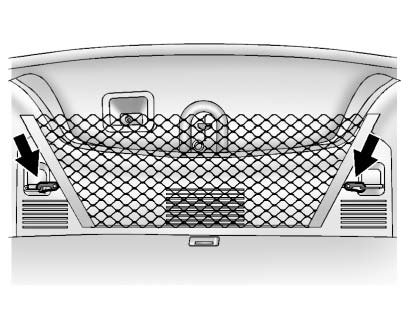 For vehicles with a convenience net, it is located in the trunk and used to store small loads. The net should not be used to store heavy loads.
Attach the loops on each side of the net to the hooks located on the sides of the trunk.
See also:
Courtesy Lamps
When any door is opened, several lamps turn on making it easier for you to enter and exit the vehicle. Turn the instrument panel brightness control completely clockwise to manually turn on these ...
Lane Departure Warning (LDW) Light
For vehicles with the lane departure warning system, this light briefly comes on green, while starting the vehicle, to indicate that it is working. If it does not, have the vehicle servic ...
Vehicle Symbol Chart
Here are some additional symbols that may be found on the vehicle and what they mean. For more information on the symbol, refer to the Index. : Airbag Readiness Light : Air Conditioning : Antilo ...