Convenience Net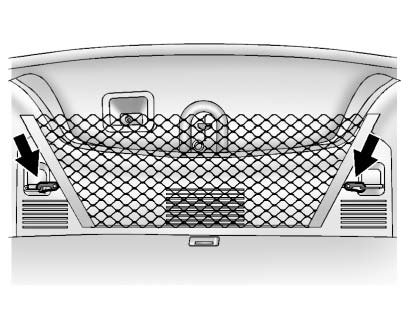 For vehicles with a convenience net, it is located in the trunk and used to store small loads. The net should not be used to store heavy loads.
Attach the loops on each side of the net to the hooks located on the sides of the trunk.
See also:
Why Safety Belts Work
When you ride in or on anything, you go as fast as it goes. Take the simplest vehicle. Suppose it is just a seat on wheels. Put someone on it. Get it up to speed. Then stop the vehicle. T ...
Off-Road Recovery
The vehicle's right wheels can drop off the edge of a road onto the shoulder while driving. If the level of the shoulder is only slightly below the pavement, recovery should be fairly easy. Ease o ...
Vehicle and Power Issues
OnStar services require a vehicle electrical system, wireless service, and GPS satellite technologies to be available and operating for features to function properly. These systems may not o ...