To Use the Engine Heater
1. Turn off the engine.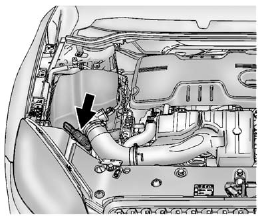 2. Open the hood and unwrap the electrical cord. The electrical cord is located on the passenger side of the engine compartment, near the air cleaner.
3. Plug it into a normal, grounded 110-volt AC outlet.

WARNING
Plugging the cord into an ungrounded outlet could cause an electrical shock. Also, the wrong kind of extension cord could overheat and cause a fire. You could be seriously injured. Plug the cord into a properly grounded three-prong 110-volt AC outlet. If the cord will not reach, use a heavy-duty three-prong extension cord rated for at least 15 amps.
4. Before starting the engine, be sure to unplug and store the cord as it was before to keep it away from moving engine parts. If you do not it could be damaged.
The length of time the heater should remain plugged in depends on several factors. Ask a dealer in the area where you will be parking the vehicle for the best advice on this.
See also:
Traction Control System (TCS) Warning Light
For vehicles with a Traction Control System (TCS) and StabiliTrakВ® warning light, this light comes on briefly when the engine is started. If it does not, have the vehicle serviced by you ...
Weatherstrips
Silicone grease on weatherstrips will make them last longer, seal better, and not stick or squeak. Apply silicone grease with a clean cloth. During very cold, damp weather frequent application m ...
Infants and Young Childrenw
Everyone in a vehicle needs protection! This includes infants and all other children. Neither the distance traveled nor the age and size of the traveler changes the need, for everyone, to use safe ...