Lower Anchor and Top Tether Anchor Locations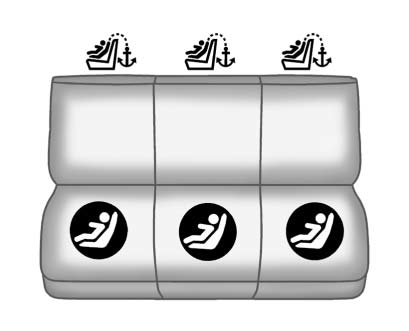 Rear Seat

(Top Tether Anchor): Seating positions with top tether anchors.

(Lower Anchor): Seating positions with two lower anchors.

To assist you in locating the lower anchors, each rear anchor position has a label, near the crease between the seatback and the seat cushion.

To assist you in locating the top tether anchors, the top tether anchor symbol is located on the cover.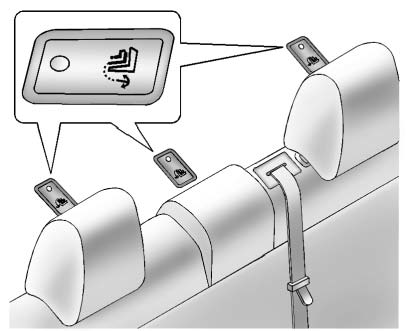 The top tether anchors are located under the covers, behind the rear seat, on the filler panel. Be sure to use an anchor located on the same side of the vehicle as the seating position where the child restraint will be placed.
Do not secure a child restraint in a position without a top tether anchor if a national or local law requires that the top tether be attached, or if the instructions that come with the child restraint say that the top tether must be attached.
According to accident statistics, children and infants are safer when properly restrained in a child restraint system or infant restraint system secured in a rear seating position. See Where to Put the Restraint for additional information.
See also:
Parking over Things That Burn
WARNING Things that can burn could touch hot exhaust parts under the vehicle and ignite. Do not park over papers, leaves, dry grass, or other things that can burn. ...
Automatic Operation
The system automatically controls the fan speed, air delivery, air conditioning, and recirculation in order to heat or cool the vehicle to the desired temperature. When the AUTO indicator lig ...
Wheel Alignment and Tire Balance
The tires and wheels were aligned and balanced at the factory to provide the longest tire life and best overall performance. Adjustments to wheel alignment and tire balancing will not be nec ...