Front Fog Lamps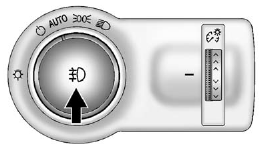 For vehicles with front fog lamps, the button is located on the outboard side of the instrument panel.
The ignition must be on to turn on the fog lamps.

(Front Fog Lamps): Press to turn the fog lamps on or off. An indicator light on the instrument panel cluster comes on when the fog lamps are on.
The fog lamps come on together with the parking lamps.
If the high-beam headlamps are turned on, the fog lamps will turn off. If the high-beam headlamps are turned off, the fog lamps will turn back on again.
Some localities have laws that require the headlamps to be on along with the fog lamps.
See also:
Leaving the Vehicle with the Engine Running
WARNING! It can be dangerous to leave the vehicle with the engine running. The vehicle could move suddenly if the shift lever is not fully in P (Park) with the parking brake firmly set. And, ...
Delayed Door Lock
When on, this feature will delay the locking of the doors until five seconds after the last door is closed. You will hear three chimes to signal delayed locking is in use. Pressing either the ...
Heated Steering Wheel
For vehicles with a heated steering wheel, the button for this feature is located on the steering wheel. : Press to turn the heated steering wheel on or off. A light on the button displays when ...