Turn and Lane-Change Signals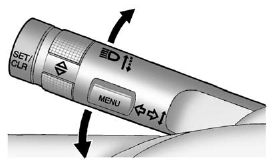 An arrow on the instrument panel cluster will flash in the direction of the turn or lane change.
Move the lever all the way up or down to signal a turn.
Raise or lower the lever until the arrow starts to flash to signal a lane change. The turn signal flashes three times.
The lever returns to its starting position when it is released.
If after signaling a turn or lane change the arrow flashes rapidly or does not come on, a signal bulb may be burned out. Have the bulbs replaced. If the bulb is not burned out, check the fuse. See Fuses and Circuit Breakers for more information.
See also:
Storing a Flat or Spare Tire andTools
CAUTION: Storing a jack, a tire, or other equipment in the passenger compartment of the vehicle could cause injury. In a sudden stop or collision, loose equipment could strike someone. Store al ...
Vehicle Data Recording and Privacy
This GM vehicle has a number of sophisticated computers that record information about the vehicle's performance and how it is driven. For example, the vehicle uses computer modules to monit ...
Storing a Station as a Favorite
Up to 36 preset stations can be stored. Each page can store six preset stations. The presets within a page can be from different radio bands. To scroll through the pages, press the FAV 1-2-3 (favor ...