DIC Operation and Displays
The DIC has different displays which can be accessed by using the DIC buttons on the turn signal lever, located on the left side of the steering wheel. The DIC displays trip, fuel, and vehicle system information, and warning messages if a system problem is detected.
The bottom of the DIC display shows the position of the shift lever and the odometer. It may also show the direction the vehicle is driving.
In cold weather the DIC display may change slowly. This is normal and will move more quickly as the vehicle's interior temperature rises.
DIC Buttons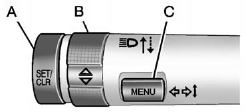 A. SET/CLR (Set/Clear): Press to set or clear the menu item when it is displayed.
B.
(Thumbwheel): Use to scroll through the items in each menu. A small marker will move across the bottom of the page as you scroll through the items. This shows where each page is in the menu.
C. MENU: Press to get to the Trip/Fuel Menu and the Vehicle Information Menu. This button is also used to return to or exit the last screen displayed on the DIC.
See also:
Universal Home Remote System (With Three Round LED)
The Universal Home Remote System provides a way to replace up to three hand-held Radio-Frequency (RF) transmitters used to activate devices such as garage door openers, security systems, and home ...
Transferring a Call
Audio can be transferred between the in-vehicle Bluetooth system and the cell phone. ...
Windshield Wipers
If the wiper motor overheats due to heavy snow or ice, the windshield wipers will stop until the motor cools, and the wiper control is turned off. After removal of the blockage, the wiper motor wi ...