DIC Operation and Displays
The DIC has different displays which can be accessed by using the DIC buttons on the turn signal lever, located on the left side of the steering wheel. The DIC displays trip, fuel, and vehicle system information, and warning messages if a system problem is detected.
The bottom of the DIC display shows the position of the shift lever and the odometer. It may also show the direction the vehicle is driving.
In cold weather the DIC display may change slowly. This is normal and will move more quickly as the vehicle's interior temperature rises.
DIC Buttons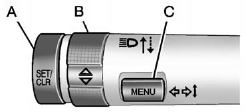 A. SET/CLR (Set/Clear): Press to set or clear the menu item when it is displayed.
B.
(Thumbwheel): Use to scroll through the items in each menu. A small marker will move across the bottom of the page as you scroll through the items. This shows where each page is in the menu.
C. MENU: Press to get to the Trip/Fuel Menu and the Vehicle Information Menu. This button is also used to return to or exit the last screen displayed on the DIC.
See also:
Console Shift Lever
If the vehicle is equipped with a console shift lever, use this procedure to shift the vehicle into P (Park): 1. Hold the brake pedal down. 2. Move the shift lever into P (Park) by pushing the l ...
Fuel E85 (85% Ethanol)
Vehicles that have a FlexFuel badge and a yellow fuel cap can use either unleaded gasoline or ethanol fuel containing up to 85% ethanol (E85). See Fuel E85 (85% Ethanol) . For all other vehicles, ...
If the Vehicle Is Stuck
Slowly and cautiously spin the wheels to free the vehicle when stuck in sand, mud, ice, or snow. If stuck too severely for the traction system to free the vehicle, turn the traction system off an ...