Rear Safety Belt Comfort Guides
This vehicle may have rear safety belt comfort guides. If not, they are available through the dealer. The guides may provide added safety belt comfort for older children who have outgrown booster seats and for some adults. When installed and properly adjusted, the comfort guide positions the belt away from the neck and head.
There is one guide, if equipped, for each outboard passenger position in the rear seat. To install a comfort guide to the safety belt: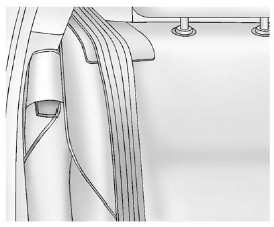 1. Remove the guide from its storage pocket on the side of the seat.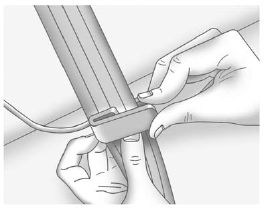 2. Place the guide over the belt, and insert the two edges of the belt into the slots of the guide.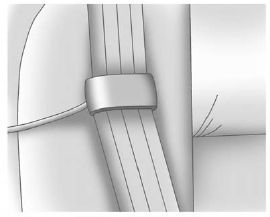 3. Be sure that the belt is not twisted and it lies flat. The elastic cord must be under the belt and the guide on top.

WARNING
A safety belt that is not properly worn may not provide the protection needed in a crash. The person wearing the belt could be seriously injured. The shoulder belt should go over the shoulder and across the chest. These parts of the body are best able to take belt restraining forces.
4. Buckle, position, and release the safety belt as described previously in this section. Make sure the shoulder portion of the belt is on the shoulder and not falling off of it. The belt should be close to, but not contacting, the neck.
5. To remove and store the comfort guide, squeeze the belt edges together so that the safety belt can be removed from the guide. Store the guide in its storage pocket on the seatback.
See also:
When the Change Engine Oil Soon Message Displays
Change engine oil and filter. See Engine Oil. An Emission Control Service. When the Change Engine Oil Soon message displays, service is required for the vehicle as soon as possible, within the ne ...
Engine Oil Life System
The engine oil life system calculates engine oil life based on vehicle use and displays the CHANGE ENGINE OIL SOON message when it is time to change the engine oil and filter. The oil life system sho ...
Braking
See Brake System Warning Light. Braking action involves perception time and reaction time. Deciding to push the brake pedal is perception time. Actually doing it is reaction time. Average reacti ...