Reclining Seatbacks

WARNING
You can lose control of the vehicle if you try to adjust a manual driver seat while the vehicle is moving. The sudden movement could startle and confuse you, or make you push a pedal when you do not want to. Adjust the driver seat only when the vehicle is not moving.

WARNING
If either seatback is not locked, it could move forward in a sudden stop or crash. That could cause injury to the person sitting there. Always push and pull on the seatbacks to be sure they are locked.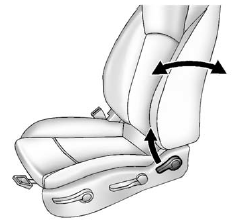 To recline the seatback:
1. Lift the lever.
If necessary, move the safety belt out of the way to access the lever.
2. Move the seatback to the desired position, then release the lever to lock the seatback in place.
3. Push and pull on the seatback to make sure it is locked.
To return the seatback to an upright position:
1. Lift the lever fully without applying pressure to the seatback, and the seatback returns to the upright position.
2. Push and pull on the seatback to make sure it is locked.

WARNING
Sitting in a reclined position when the vehicle is in motion can be dangerous. Even when buckled up, the safety belts cannot do their job when reclined like this.
The shoulder belt cannot do its job because it will not be against your body. Instead, it will be in front of you. In a crash, you could go into it, receiving neck or other injuries.
The lap belt cannot do its job either. In a crash, the belt could go up over your abdomen. The belt forces would be there, not at your pelvic bones. This could cause serious internal injuries.
For proper protection when the vehicle is in motion, have the seatback upright. Then sit well back in the seat and wear the safety belt properly.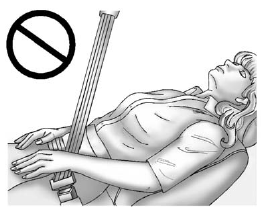 Do not have a seatback reclined if the vehicle is moving.
See also:
RDS Messages
INFO (Information): If the current station has a message, INFO displays. Press this button to see the message. The message can display the artist, song title, call in phone numbers, etc. If the ...
Heated Seats
Uplevel Automatic Climate Control System Shown, Other Automatic Systems Similar On vehicles with heated front seats, the controls are on the climate control panel. The engine must be running to o ...
XM Radio Messages
XL (Explicit Language Channels): These channels, or any others, can be blocked at a customer's request, by calling 1-800-852-XMXM (9696). XM Updating: The encryption code in the receiver is b ...