Head Restraints

WARNING
With head restraints that are not installed and adjusted properly, there is a greater chance that occupants will suffer a neck/ spinal injury in a crash. Do not drive until the head restraints for all occupants are installed and adjusted properly.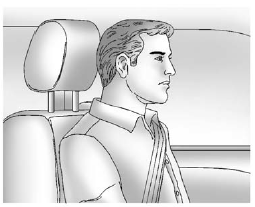 Adjust the head restraint so that the top of the restraint is at the same height as the top of the occupant's head. This position reduces the chance of a neck injury in a crash.
See also:
Rear Door Security Locks
Your vehicle may have this feature. You can lock the rear doors so they cannot be opened from the inside by passengers. To use one of these locks do the following: 1. Open one of the rear doors. ...
OnStar Steering Wheel Controls
This vehicle may have a Talk/Mute button that can be used to interact with OnStar Hands-Free calling. See Steering Wheel Controls for more information. On some vehicles, the Talk button can be ...
Replacing Airbag System Parts after a Crash
WARNING A crash can damage the airbag systems in the vehicle. A damaged airbag system may not work properly and may not protect you and your passenger(s) in a crash, resulting in serious injury ...