Programming with a Recognized Transmitter (Keyless Access Vehicles Only)
A new transmitter can be programmed to the vehicle when there is one recognized transmitter. To program, the vehicle must be off and all of the transmitters, both currently recognized and new, must be with you.
1. Place the recognized transmitter(s) near you.
2. Insert the vehicle key of the new transmitter into the key lock cylinder located on the outside of the driver door and turn the key to the unlock position five times within 10 seconds.
The Driver Information Center (DIC) displays READY FOR REMOTE #2, 3, 4 or 5.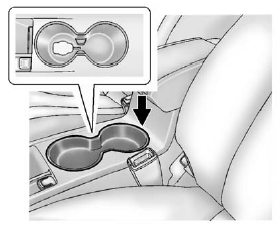 3. Place the new transmitter into the transmitter pocket with the buttons facing up. The transmitter pocket is located inside the center console cupholder. The cupholder liner will need to be removed to access the transmitter pocket. Use your finger or a tool in the notch at the rear of the cupholders to remove the liner. See Cupholders .
4. Press the ignition. When the transmitter is learned, the DIC will show that it is ready to program the next transmitter.
5. Remove the transmitter from the transmitter pocket and press

.
To program additional transmitters, repeat Steps 3 through 5.
When all additional transmitters are programmed, press and hold the ignition for at least 10 seconds to exit programming mode.
See also:
Programming the Universal Remote System
For questions or help programming the Universal Remote system, call 1-800-355-3515 or go to www.homelink.com. Programming a garage door opener involves time-sensitive actions, so read the e ...
Voice Pass-Thru
Voice Pass-Thru allows access to the voice recognition commands on the cell phone. See the cell phone manufacturers user guide to see if the cell phone supports this feature. This feature can be ...
Rear Window Defogger
(Rear Window Defogger): Press to turn the rear window defogger on or off. The rear window defogger turns off automatically after about 10 minutes. If turned on again it runs for about five minute ...