Programming with a Recognized Transmitter (Keyless Access Vehicles Only)
A new transmitter can be programmed to the vehicle when there is one recognized transmitter. To program, the vehicle must be off and all of the transmitters, both currently recognized and new, must be with you.
1. Place the recognized transmitter(s) near you.
2. Insert the vehicle key of the new transmitter into the key lock cylinder located on the outside of the driver door and turn the key to the unlock position five times within 10 seconds.
The Driver Information Center (DIC) displays READY FOR REMOTE #2, 3, 4 or 5.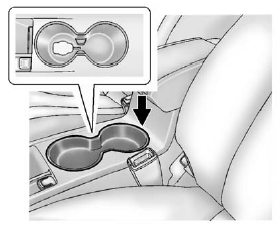 3. Place the new transmitter into the transmitter pocket with the buttons facing up. The transmitter pocket is located inside the center console cupholder. The cupholder liner will need to be removed to access the transmitter pocket. Use your finger or a tool in the notch at the rear of the cupholders to remove the liner. See Cupholders .
4. Press the ignition. When the transmitter is learned, the DIC will show that it is ready to program the next transmitter.
5. Remove the transmitter from the transmitter pocket and press

.
To program additional transmitters, repeat Steps 3 through 5.
When all additional transmitters are programmed, press and hold the ignition for at least 10 seconds to exit programming mode.
See also:
Safety Belt Use During Pregnancy
Safety belts work for everyone, including pregnant women. Like all occupants, they are more likely to be seriously injured if they do not wear safety belts. A pregnant woman should wear a lap-sh ...
Navigation System
The vehicle's navigation system provides detailed maps of most major freeways and roads throughout the United States and Canada. After a destination has been set, the system provides turn-by-t ...
Underhood Fuse Block
The underhood fuse block is located on the passenger side of the engine compartment. Remove the fuse cover and secondary service cover to access the fuse block. Notice: Spilling liquid on any e ...