Programming with a Recognized Transmitter (Keyless Access Vehicles Only)
A new transmitter can be programmed to the vehicle when there is one recognized transmitter. To program, the vehicle must be off and all of the transmitters, both currently recognized and new, must be with you.
1. Place the recognized transmitter(s) near you.
2. Insert the vehicle key of the new transmitter into the key lock cylinder located on the outside of the driver door and turn the key to the unlock position five times within 10 seconds.
The Driver Information Center (DIC) displays READY FOR REMOTE #2, 3, 4 or 5.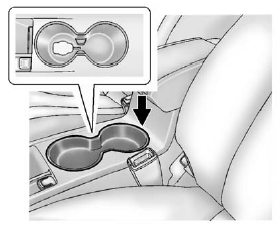 3. Place the new transmitter into the transmitter pocket with the buttons facing up. The transmitter pocket is located inside the center console cupholder. The cupholder liner will need to be removed to access the transmitter pocket. Use your finger or a tool in the notch at the rear of the cupholders to remove the liner. See Cupholders .
4. Press the ignition. When the transmitter is learned, the DIC will show that it is ready to program the next transmitter.
5. Remove the transmitter from the transmitter pocket and press

.
To program additional transmitters, repeat Steps 3 through 5.
When all additional transmitters are programmed, press and hold the ignition for at least 10 seconds to exit programming mode.
See also:
Windshield Wiper Blade Replacement
Windshield wiper blades should be inspected for wear or cracking. See Scheduled Maintenance. It is a good idea to clean or replace the wiper blade assembly on a regular basis or when worn. For pr ...
Engine Power Mes
ENGINE POWER IS REDUCED This message displays and a chime sounds when the cooling system temperature gets too hot and the engine further enters the engine coolant protection mode. See Engine Overh ...
Safety Belts
Refer to the following sections for important information on how to use safety belts properly: Safety Belts . How to Wear Safety Belts Properly . Lap-Shoulder Belt . Lower Anchors and Te ...