Lock Sensor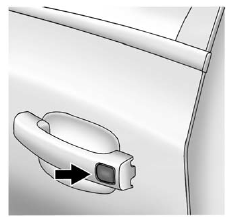 When all doors are closed and the ignition is off, the vehicle can be locked by pressing this area on the door handle. This feature will be available for several minutes after the vehicle has been turned off.
See also:
Rear Floor Storage Lid
CAUTION: If any removable convenience item is not secured properly, it can move around in a collision or sudden stop. People in the vehicle could be injured. Be sure to secure any such item pro ...
Windshield Wiper Fuses
The windshield wiper motor is protected by a circuit breaker and a fuse. If the motor overheats due to heavy snow or ice, the wiper will stop until the motor cools. If the overload is caused by so ...
How to Check Power Steering Fluid
To check the power steering fluid: 1. Turn the key off and let the engine compartment cool down. 2. Wipe the cap and the top of the reservoir clean. 3. Unscrew the cap and wipe the dipstick with ...