Driver Information Center (DIC)
The DIC display is located in the center of the instrument panel cluster. It shows the status of many vehicle systems. The controls for the DIC are located on the turn signal lever.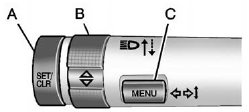 A. SET/CLR: Press to set or clear the menu item when it is displayed.
B. w / x : Use the thumbwheel to scroll through the items in each menu.
C. MENU: Press to display the Trip/Fuel Menu and the Vehicle Information Menu. This button is also used to return to or exit the last screen displayed on the DIC.
For more information, see Driver Information Center (DIC) .
See also:
Customer Assistance for Text Telephone (TTY) Users
To assist customers who are deaf, hard of hearing, or speech-impaired and who use Text Telephones (TTYs), Buick has TTY equipment available at its Customer Assistance Center. Any TTY user can comm ...
If a Tire Goes Flat
It is unusual for a tire to blow out while driving, especially if the tires are maintained properly. See Tires. If air goes out of a tire, it is much more likely to leak out slowly. But if the ...
Door Locks
WARNING! Unlocked doors can be dangerous. • Passengers, especially children, can easily open the doors and fall out of a moving vehicle. The chance of being thrown out of the vehicle in ...