Driver Information Center (DIC)
The DIC display is located in the center of the instrument panel cluster. It shows the status of many vehicle systems. The controls for the DIC are located on the turn signal lever.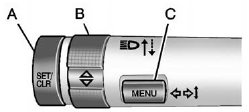 A. SET/CLR: Press to set or clear the menu item when it is displayed.
B. w / x : Use the thumbwheel to scroll through the items in each menu.
C. MENU: Press to display the Trip/Fuel Menu and the Vehicle Information Menu. This button is also used to return to or exit the last screen displayed on the DIC.
For more information, see Driver Information Center (DIC) .
See also:
Cleaning the RSE Seatback Console
Use only a clean cloth dampened with clean water to clean the RSE seatback console surface. ...
Checking Engine Oil
It is a good idea to check the engine oil every time you get fuel. In order to get an accurate reading, the oil must be warm and the vehicle must be on level ground. The engine oil dipstick hand ...
Hydraulic Power Steering
If your vehicle has hydraulic power steering, it may require maintenance. See Power Steering Fluid (2.4L L4 Engine) or Power Steering Fluid (3.6L V6 Engine). If power steering assist is lost ...