Sewn-in Safety Belt Comfort Guide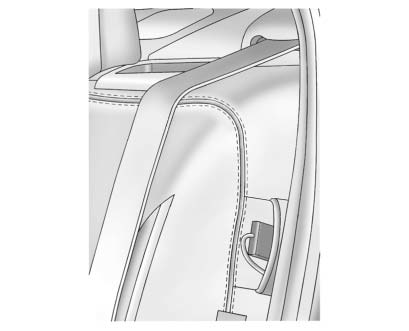 On vehicles with the sewn-in comfort guide, there is one guide for each outboard passenger position in the rear seat.
To install a comfort guide to the safety belt:
1. Remove the guide from its storage pocket on the side of the seat.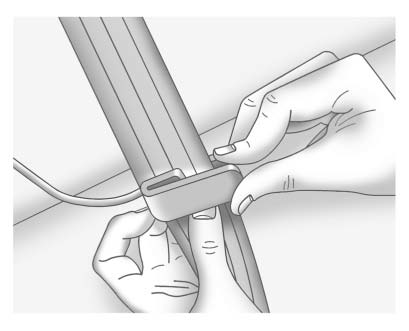 2. Place the guide over the belt, and insert the two edges of the belt into the slots of the guide.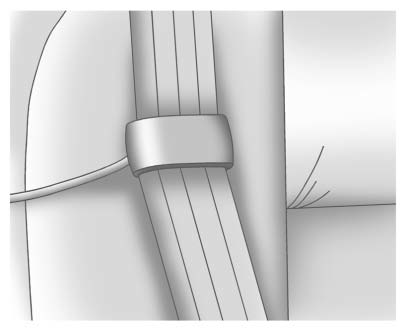 3. Be sure that the belt is not twisted and it lies flat. The elastic cord must be under the belt and the guide on top.

WARNING
A safety belt that is not properly worn may not provide the protection needed in a crash. The person wearing the belt could be seriously injured. The shoulder belt should go over the shoulder and across the chest. These parts of the body are best able to take belt restraining forces.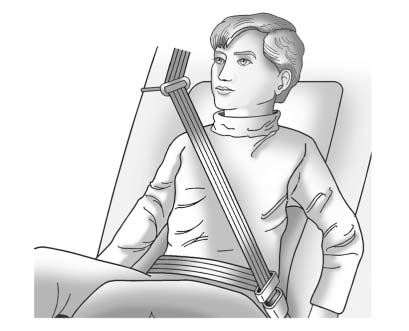 4. Buckle, position, and release the safety belt as described previously in this section. Make sure the shoulder portion of the belt is on the shoulder and not falling off of it. The belt should be close to, but not contacting, the neck.
To remove and store the comfort guide, squeeze the belt edges together so that the safety belt can be removed from the guide. Store the guide in its storage pocket on the side of the seatback.
See also:
Passenger Safety Belt Reminder Light
Several seconds after the engine is started, a chime sounds for several seconds to remind the front passenger to buckle their safety belt. The passenger safety belt light, located on the instrum ...
How Does an Airbag Restrain?
In moderate to severe frontal or near frontal collisions, even belted occupants can contact the steering wheel or the instrument panel. In moderate to severe side collisions, even belted occupan ...
Driving On Grades
Reduce speed and shift to a lower gear before starting down a long or steep downgrade. If the transmission is not shifted down, the brakes might have to be used so much that they would get hot and ...