Sewn-in Safety Belt Comfort Guide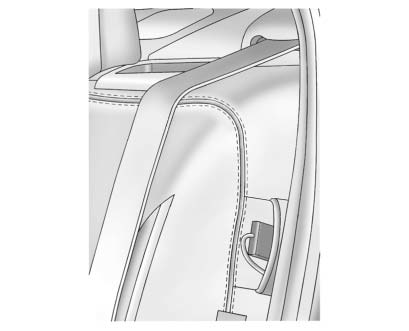 On vehicles with the sewn-in comfort guide, there is one guide for each outboard passenger position in the rear seat.
To install a comfort guide to the safety belt:
1. Remove the guide from its storage pocket on the side of the seat.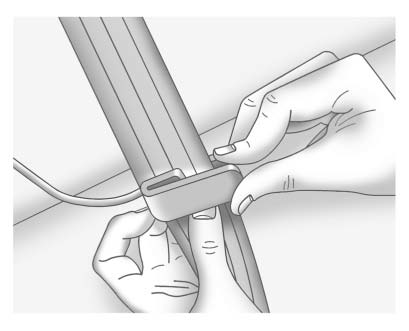 2. Place the guide over the belt, and insert the two edges of the belt into the slots of the guide.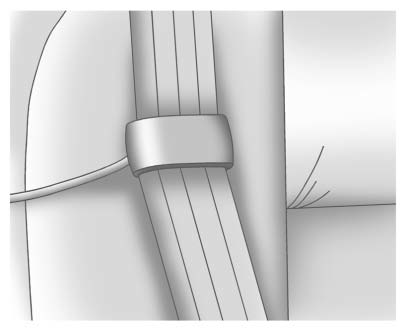 3. Be sure that the belt is not twisted and it lies flat. The elastic cord must be under the belt and the guide on top.

WARNING
A safety belt that is not properly worn may not provide the protection needed in a crash. The person wearing the belt could be seriously injured. The shoulder belt should go over the shoulder and across the chest. These parts of the body are best able to take belt restraining forces.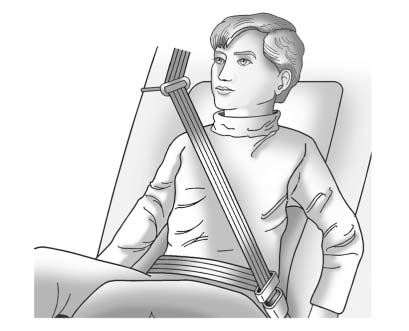 4. Buckle, position, and release the safety belt as described previously in this section. Make sure the shoulder portion of the belt is on the shoulder and not falling off of it. The belt should be close to, but not contacting, the neck.
To remove and store the comfort guide, squeeze the belt edges together so that the safety belt can be removed from the guide. Store the guide in its storage pocket on the side of the seatback.
See also:
Remote Left In Vehicle
This allows the Remote Left In Vehicle reminder feature to be turned on or off. If on, the horn will chirp if a remote is left in the vehicle. Press SELECT when Remote Left In Vehicle is hi ...
Trunk Release
The trunk may be opened by pressing on the Remote Keyless Entry (RKE) transmitter or the touch pad located on the rear of the trunk above the license plate. See Trunk for more information. ...
Erasing Universal Home Remote Buttons
The programmed buttons should be erased when the vehicle is sold or the lease ends. To erase either Rolling Code or Fixed Code on the Universal Home Remote device: 1. Press and hold the two outs ...