Adjustable Safety Belt Comfort Guide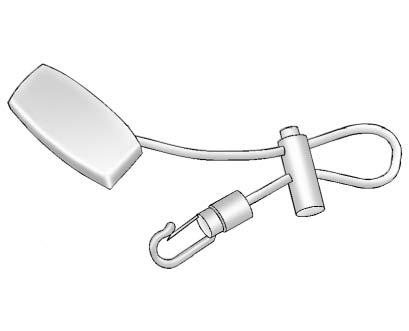 On vehicles with the adjustable comfort guide, one guide is provided. Additional adjustable comfort guides are available through your dealer
To install the adjustable safety belt comfort guide to the seatback and the safety belt: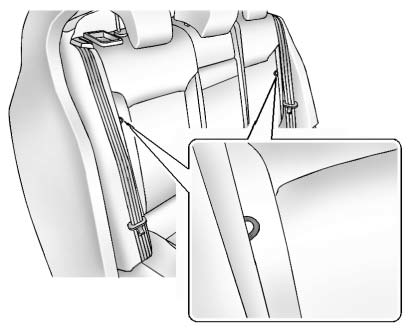 1. Locate the anchorage loop between the rear outboard seatback and seat bolster, near the top.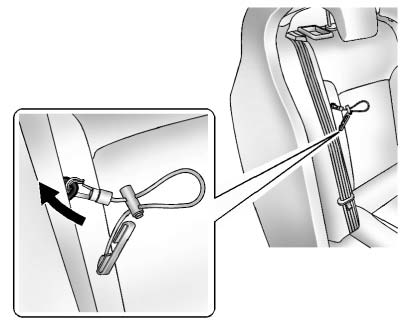 2. Attach the adjustable comfort guide to the anchor loop by threading the hook through the loop.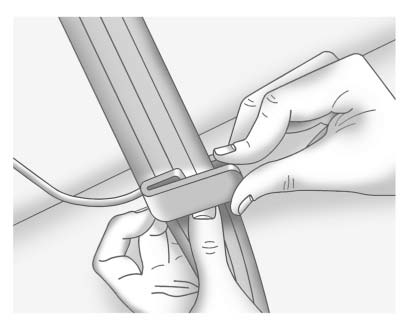 3. Place the guide over the belt, and insert the two edges of the belt into the slots of the guide.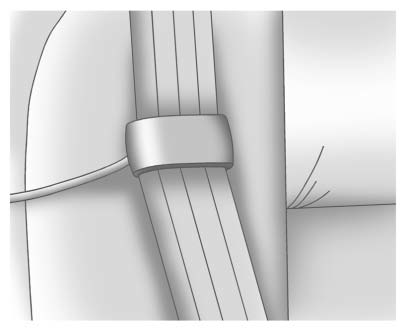 4. Be sure that the belt is not twisted and it lies flat. The elastic cord must be under the belt and the guide on top.
5. The elastic cord on the comfort guide is adjustable. You can make it longer or shorter by squeezing both ends of the plastic adjuster and pulling on the elastic cord or the guide
6. Adjust the guide so the shoulder portion of the belt is on the shoulder and not falling off of it.
The belt should be close to, but not contacting, the neck.
Improper comfort guide adjustment could reduce the effectiveness of the safety belt in a crash.

WARNING
A safety belt that is not properly worn may not provide the protection needed in a crash. The person wearing the belt could be seriously injured. The shoulder belt should go over the shoulder and across the chest. These parts of the body are best able to take belt restraining forces.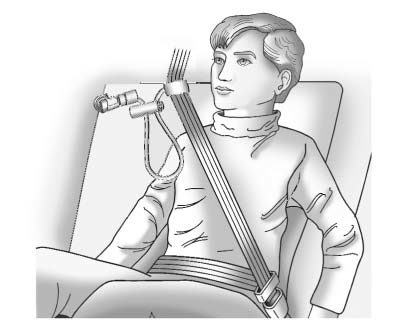 7. Buckle, position, and release the safety belt as described previously in this section. Make sure that the shoulder belt crosses the shoulder.
To remove and store the comfort guide, squeeze the belt edges together so that the safety belt can be removed from the guide.
Un-hook the guide from the loop on the seat. Store the guide in a convenient place like the glove box for the next time it is needed.
See also:
Horn
Press near the horn symbols or press on the steering wheel pad to sound the horn. ...
Removing the Flat Tire andInstalling the Spare Tire
1. If your vehicle has a wheel cap that covers the wheel nuts, position the chisel end of the wheel wrench in the notch and pry it off. 2. Using the wheel wrench, loosen all the wheel nuts. ...
Rear Climate Control System (Rear Climate with Rear Seat Audio)
A. Fan Control B. Air Delivery Mode Control C. Temperature Control For vehicles with the rear climate control system, the controls are located on the rear of the center console. Press the REAR ...