Cruise Control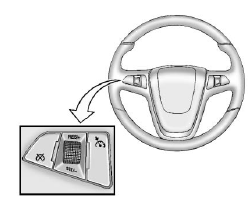 Cruise Control
The cruise control buttons are located on the steering wheel.

Press to turn the cruise control system on and off. An indicator light will turn on or off in the instrument panel cluster.

Press to disengage cruise control without erasing the set speed from memory
RES/+ : Move the thumbwheel up to make the vehicle resume to a previously set speed or to accelerate to a higher speed.
SET/−: Move the thumbwheel down to set a speed or to make the vehicle decelerate.
See Cruise Control .
See also:
Leaving the Vehicle with the Engine Running
WARNING! It can be dangerous to leave the vehicle with the engine running. The vehicle could move suddenly if the shift lever is not fully in P (Park) with the parking brake firmly set. And, ...
Safety Belts
Refer to the following sections for important information on how to use safety belts properly. ► Safety Belts . ► How to Wear Safety Belts Properly . ► Lap-Shoulder Belt . ` ...
How to Add Coolant to the Radiator
1. You can remove the radiator pressure cap when the cooling system, including the radiator pressure cap and upper radiator hose, is no longer hot. Turn the pressure cap slowly counterclockwis ...