Climate Controls
The heating, cooling, and ventilation for the vehicle can be controlled with these systems.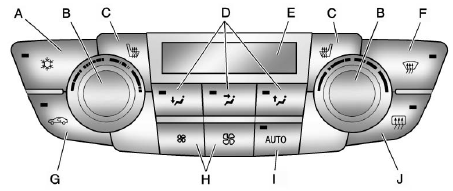 A. Air Conditioning
B. Driver and Passenger
Temperature Controls
C. Heated Seats
D. Air Delivery Modes
E. Climate Display
F. Defrost
G. Recirculation
H. Fan Controls
I. AUTO (Automatic Mode)
J. Rear Defogger
See Dual Automatic Climate Control System .
See also:
Bluetooth (Infotainment Controls)
For information about how to navigate the menu system using the infotainment controls, see Operation . Pairing A Bluetooth-enabled cell phone must be paired to the Bluetooth system first and then ...
If a Tire Goes Flat
It is unusual for a tire to blow out while driving, especially if the tires are maintained properly. See Tires. If air goes out of a tire, it is much more likely to leak out slowly. But if the ...
When to Check Power Steering Fluid
It is not necessary to regularly check power steering fluid unless a leak is suspected in the system or an unusual noise is heard. A fluid loss in this system could indicate a problem. Have ...