Dolly Towing from the Front (All-Wheel Drive)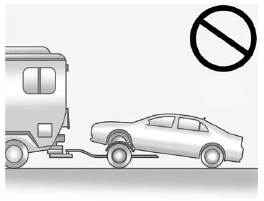 Dolly Towing from the Front (All-Wheel Drive)
Vehicles with all-wheel drive cannot be dolly towed.
See also:
Audio Source
VOL/ (Volume/Power): 1. Press to turn the radio on or off. 2. Turn to increase or decrease the volume of the active source (i.e., current audio source, active navigation voice guidance, or ...
Remote Vehicle Start
This vehicle may have a remote starting feature that starts the engine from outside of the vehicle. (Remote Start): This button is located on the RKE transmitter if the vehicle has remote start. ...
Tire Pressure
Tires need the correct amount of air pressure to operate effectively. Notice: Neither tire underinflation nor overinflation is good. Underinflated tires, or tires that do not have enough air, can re ...