Dolly Towing from the Front (Front-Wheel Drive)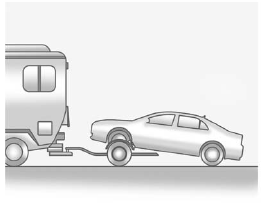 Dolly Towing from the Front (Front-Wheel Drive)
Vehicles with front-wheel drive can be dolly towed from the front.
Use the following procedure to dolly tow the vehicle from the front:
1. Attach the dolly to the tow vehicle following the dolly manufacturer's instructions.
2. Drive the front wheels onto the dolly.
3. Shift the transmission to P (Park).
4. Firmly set the parking brake.
5. Use an adequate clamping device designed for towing to ensure that the front wheels are locked into the straight-ahead position.
6. Secure the vehicle to the dolly following the manufacturer's instructions.
7. Release the parking brake only after the vehicle being towed is firmly attached to the towing vehicle.
8. Turn the ignition to LOCK/OFF.
See also:
What Will You See after an Airbag Inflates?
After the frontal airbags and seat-mounted side impact airbags inflate, they quickly deflate, so quickly that some people may not even realize an airbag inflated. Roof-rail airbags may still be at ...
Securing Child Restraints (Rear Seat)
When securing a child restraint in a rear seating position, study the instructions that came with the child restraint to make sure it is compatible with this vehicle. If the child restraint h ...
Securing the Child Within the Child Restraint
WARNING: A child can be seriously injured or killed in a crash if the child is not properly secured in the child restraint. Secure the child properly following the instructions that came with t ...