Dolly Towing from the Front (Front-Wheel Drive)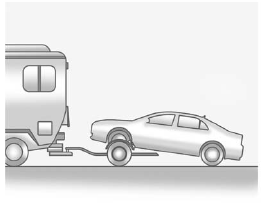 Dolly Towing from the Front (Front-Wheel Drive)
Vehicles with front-wheel drive can be dolly towed from the front.
Use the following procedure to dolly tow the vehicle from the front:
1. Attach the dolly to the tow vehicle following the dolly manufacturer's instructions.
2. Drive the front wheels onto the dolly.
3. Shift the transmission to P (Park).
4. Firmly set the parking brake.
5. Use an adequate clamping device designed for towing to ensure that the front wheels are locked into the straight-ahead position.
6. Secure the vehicle to the dolly following the manufacturer's instructions.
7. Release the parking brake only after the vehicle being towed is firmly attached to the towing vehicle.
8. Turn the ignition to LOCK/OFF.
See also:
Disarming the System
To disarm the system, do one of the following: Press on the RKE transmitter. Approach the vehicle with the RKE transmitter (keyless access). Start the engine. The alarm automatically disar ...
Driving on Off-Road Hills
Off-road driving often takes you up, down, or across a hill. Driving safely on hills requires good judgment and understanding of what your vehicle can and cannot do. There are some hills that simp ...
Scheduling Service Appointments
When the vehicle requires warranty service, contact your dealer and request an appointment. By scheduling a service appointment and advising the service consultant of your transportation needs, your d ...