Dolly Towing from the Front (Front-Wheel Drive)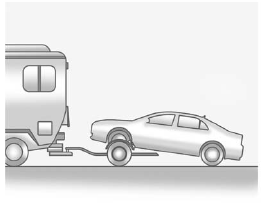 Dolly Towing from the Front (Front-Wheel Drive)
Vehicles with front-wheel drive can be dolly towed from the front.
Use the following procedure to dolly tow the vehicle from the front:
1. Attach the dolly to the tow vehicle following the dolly manufacturer's instructions.
2. Drive the front wheels onto the dolly.
3. Shift the transmission to P (Park).
4. Firmly set the parking brake.
5. Use an adequate clamping device designed for towing to ensure that the front wheels are locked into the straight-ahead position.
6. Secure the vehicle to the dolly following the manufacturer's instructions.
7. Release the parking brake only after the vehicle being towed is firmly attached to the towing vehicle.
8. Turn the ignition to LOCK/OFF.
See also:
Automatic Door Locks
Vehicles with an automatic lock/unlock feature enable you to program the vehicle's power door locks. This feature can be programmed through the Driver Information Center (DIC). See Vehicle Pe ...
Shifting out of Park
The vehicle is equipped with an electronic shift lock release system. The shift lock release is designed to: ► Prevent ignition key removal unless the shift lever is in P (Park) with the shif ...
EPB Apply
The EPB can be applied any time the vehicle is stopped. The EPB is applied by momentarily lifting up on the EPB switch. Once fully applied, the parking brake status light will be on. While t ...