Dolly Towing from the Front (Front-Wheel Drive)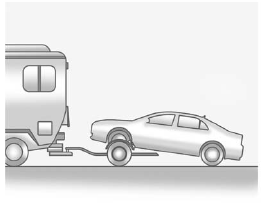 Dolly Towing from the Front (Front-Wheel Drive)
Vehicles with front-wheel drive can be dolly towed from the front.
Use the following procedure to dolly tow the vehicle from the front:
1. Attach the dolly to the tow vehicle following the dolly manufacturer's instructions.
2. Drive the front wheels onto the dolly.
3. Shift the transmission to P (Park).
4. Firmly set the parking brake.
5. Use an adequate clamping device designed for towing to ensure that the front wheels are locked into the straight-ahead position.
6. Secure the vehicle to the dolly following the manufacturer's instructions.
7. Release the parking brake only after the vehicle being towed is firmly attached to the towing vehicle.
8. Turn the ignition to LOCK/OFF.
See also:
Customer Satisfaction Procedure
Your satisfaction and goodwill are important to your dealer and to Buick. Normally, any concerns with the sales transaction or the operation of the vehicle will be resolved by your dealer's sales or s ...
Tachometer
The tachometer displays the engine speed in revolutions per minute (rpm). Notice: If the engine is operated with the tachometer in the shaded warning area, the vehicle could be damaged, and the dam ...
Fuel E85 (85% Ethanol)
Vehicles that have a FlexFuel badge and a yellow fuel cap can use either unleaded gasoline or ethanol fuel containing up to 85% ethanol (E85). See Fuel E85 (85% Ethanol) . For all other vehicles, ...