Taillamps, Turn Signal, Stoplamps, and Back-Up Lamps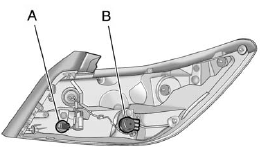 A. Back-Up Lamp
B. Turn Signal Lamp
To replace one of these lamps:
1. Open the trunk. See Trunk.
2. Remove the fasteners and pull back the trunk trim.
3. Remove the four plastic wing nuts holding the taillamp assembly in place.
4. Pull out the taillamp assembly and disconnect the wiring harness.
5. Turn the bulb socket counterclockwise to remove it.
6. Pull the old bulb straight out of the bulb socket.
7. Reverse Steps 1 through 6 to install.
See also:
Home Page Features
Various functions are disabled when the vehicle is moving. Press the Now Playing screen button to display the active source page. The sources available are AM, FM, XM (if equipped), CD, USB ...
Headlamps, Front Turn Signal, andParking Lamps
To replace a bulb, do the following: 1. Open the hood. 2. Remove the grille by grasping and pulling it forward. 3. Lift the two headlamp retaining clips. 4. Pull the headlamp assembly away from ...
Parking over Things That Burn
WARNING! Things that can burn could touch hot exhaust parts under the vehicle and ignite. Do not park over papers, leaves, dry grass, or other things that can burn. ...