Wiper Blade Replacement
Windshield wiper blades should be inspected for wear and cracking.
See Maintenance Schedule for more information.
Replacement blades come in different types and are removed in different ways. For proper type and length, see Maintenance Replacement Parts.
To replace the windshield wiper blade:
1. Pull the windshield wiper assembly away from the windshield.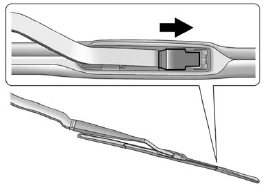 2. Lift up on the latch in the middle of the wiper blade where the wiper arm attaches.
3. With the latch open, pull the wiper blade down toward the windshield far enough to release it from the J-hooked end of the wiper arm.
4. Remove the wiper blade.
Allowing the wiper blade arm to touch the windshield when no wiper blade is installed could damage the windshield. Any damage that occurs would not be covered by the vehicle warranty. Do not allow the wiper blade to touch the windshield.
5. Reverse Steps 1 through 3 for wiper blade replacement.
See also:
Entry Lighting
If it is dark enough outside when you press the unlock button on the remote keyless entry transmitter, the interior courtesy lamps will turn on and stay on for about 40 seconds. The lamps can be ...
Driving for Better Fuel Economy
Driving habits can affect fuel mileage. Here are some driving tips to get the best fuel economy possible. ► Avoid fast starts and accelerate smoothly. ► Brake gradually and avoid abrup ...
Anti-theft Alarm System Messages
SERVICE THEFT DETERRENT SYSTEM This message displays when there is a problem with the theft-deterrent system. The vehicle may or may not restart so you may want to take the vehicle to your dealer ...