Wiper Blade Replacement
Windshield wiper blades should be inspected for wear and cracking.
See Maintenance Schedule for more information.
Replacement blades come in different types and are removed in different ways. For proper type and length, see Maintenance Replacement Parts.
To replace the windshield wiper blade:
1. Pull the windshield wiper assembly away from the windshield.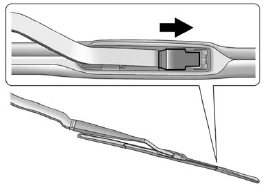 2. Lift up on the latch in the middle of the wiper blade where the wiper arm attaches.
3. With the latch open, pull the wiper blade down toward the windshield far enough to release it from the J-hooked end of the wiper arm.
4. Remove the wiper blade.
Allowing the wiper blade arm to touch the windshield when no wiper blade is installed could damage the windshield. Any damage that occurs would not be covered by the vehicle warranty. Do not allow the wiper blade to touch the windshield.
5. Reverse Steps 1 through 3 for wiper blade replacement.
See also:
Radio Frequency Statement
This vehicle has systems that operate on a radio frequency that comply with Part 15 of the Federal Communications Commission (FCC) rules and with Industry Canada Standards RSS-GEN/210/220/31 ...
FCC Information
See Radio Frequency Statement for FCC information. Frequency of operation: 24.05GHz – 24.25GHz Field Strength: Not greater than 2.5V/m peak (0.25V/m average) at a distance of 3 m. The manufac ...
Safety Belt Pretensioners
Your vehicle has safety belt pretensioners for the driver and right front passenger. Although you cannot see them, they are part of the safety belt assembly. They help tighten the safety belts in ...