Wiper Blade Replacement
Windshield wiper blades should be inspected for wear and cracking.
See Maintenance Schedule for more information.
Replacement blades come in different types and are removed in different ways. For proper type and length, see Maintenance Replacement Parts.
To replace the windshield wiper blade:
1. Pull the windshield wiper assembly away from the windshield.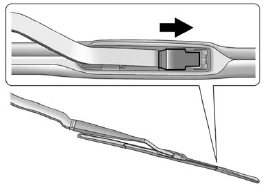 2. Lift up on the latch in the middle of the wiper blade where the wiper arm attaches.
3. With the latch open, pull the wiper blade down toward the windshield far enough to release it from the J-hooked end of the wiper arm.
4. Remove the wiper blade.
Allowing the wiper blade arm to touch the windshield when no wiper blade is installed could damage the windshield. Any damage that occurs would not be covered by the vehicle warranty. Do not allow the wiper blade to touch the windshield.
5. Reverse Steps 1 through 3 for wiper blade replacement.
See also:
Off-Road Recovery
The vehicle's right wheels can drop off the edge of a road onto the shoulder while driving. Follow these tips: 1. Ease off the accelerator and then, if there is nothing in the way, steer the ...
Features & Safety
The LaCrosse has yet to be crash-tested by the Insurance Institute for Highway Safety. Standard safety features include antilock brakes, an electronic stability system and six airbags. Seat-mounte ...
Brake System Warning Light
When the ignition is on, the brake system warning light will come on when you set your parking brake. The light will stay on if your parking brake does not release fully. If it stays on after your ...