How to Check Power Steering Fluid
Check the level after the vehicle has been driven for at least 20 minutes so the fluid is warm.
To check the power steering fluid:
1. Turn the ignition to LOCK/OFF and let the engine compartment cool down.
2. Wipe the cap and the top of the reservoir clean.
3. Unscrew the cap and pull it straight up.
4. Wipe the dipstick with a clean rag.
5. Replace the cap and completely tighten it.
6. Remove the cap again and look at the fluid level on the dipstick.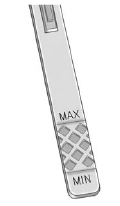 When the engine is hot, the level should be at the hot MAX level.
When the engine is cold, the fluid level should be between MIN and MAX on the dipstick.
See also:
Remote Recall
When on, this feature will recall the current driver's last seat and outside mirror positions upon unlocking the driver door with the RKE, and opening that door. The current driver is identi ...
Driving in Water
Heavy rain can mean flash flooding, and flood waters demand extreme caution. Find out how deep the water is before you drive through it. If it is deep enough to cover your wheel hubs, axles, or ...
Ignition Positions (Key Access)
Ignition Positions (Key Access) The ignition switch has four different positions. Notice: Using a tool to force the key to turn in the ignition could cause damage to the switch or break t ...