3.6L V6 Engine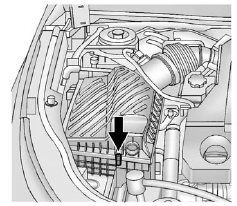 3.6L V6 Engine
1. Remove the screws on top of the engine air cleaner/filter housing.
2. Lift the filter cover housing away from the engine.
3. Pull out the filter.
4. Inspect or replace the engine air cleaner/filter.
5. Lower the filter cover housing toward the engine.
6. Install the screws on the top of the housing to lock the cover in place.
WARNING!
Operating the engine with the air cleaner/filter off can cause you or others to be burned. The air cleaner not only cleans the air; it helps to stop flames if the engine backfires. Use caution when working on the engine and do not drive with the air cleaner/filter off.
Notice:
If the air cleaner/filter is off, dirt can easily get into the engine, which could damage it.
Always have the air cleaner/filter in place when you are driving.
See also:
Doing Your Own Service Work
CAUTION: You can be injured and your vehicle could be damaged if you try to do service work on a vehicle without knowing enough about it. • Be sure you have sufficient knowledge, experience, ...
Anti-theft Alarm System
This vehicle has an anti-theft alarm system. ...
Washer Fluid
What to Use When adding windshield washer fluid, be sure to read the manufacturer's instructions before use. If the vehicle will be operating in an area where the temperature may fall below f ...