Windows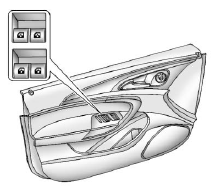 The power window switches are located on the driver door. Each passenger door has a switch that controls only that window.
Press the switch to lower the window. Pull the front of the switch up to raise it.
See Power Windows for additional information.
See also:
License Plate Lamp
To replace one of these bulbs: 1. Remove the two screws holding each of the license plate lamps to the liftgate trim. 2. Turn and pull the license plate lamp forward through the liftgate trim op ...
Driving on Snow or Ice
Most of the time, those places where the tires meet the road probably have good traction. However, if there is snow or ice between the tires and the road, you can have a very slippery situation. ...
Aluminum or Chrome-Plated Wheels and Trim
The vehicle may have either aluminum or chrome-plated wheels. Keep the wheels clean using a soft clean cloth with mild soap and water. Rinse with clean water. After rinsing thoroughly, dry with ...